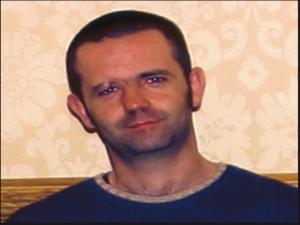 By Deborah McAleese
Police have launched another search as part of an investigation into the disappearance of a man 10 years ago.
Gerard Conway was last seen in the Cookstown area at the end of January 2007.
He was reported missing a short time later, but despite extensive inquiries by police over a number of years, no clues as to his whereabouts have been discovered.
Detectives from the PSNI's Serious Crime Branch searched an address at Battery Road in Ardboe, Cookstown, on Wednesday. Nothing untoward was found.
However, officers have now launched a search of land in the Cookstown area.
Detectives from the PSNI's Serious Crime Branch began their search in the Clare Lane area of Cookstown on Thursday morning.
The officer in charge of the investigation, Detective Chief Inspector Gareth Talbot, said: "As part of the search operation we have deployed specialist resources including police search teams and victim recovery dogs.
"Other equipment and experts are available, if required.
"Gerard's family are being kept fully informed about today's enquiries."
Mr Conway was 32 when he was reported missing on January 25 2007.
Following his disappearance police checks were extended to the Republic of Ireland and to England.
Police have CCTV footage of Mr Conway at a bank in Cookstown on January 25 2007 and there were sightings by people who knew him in late January and early February.
In the immediate aftermath of his disappearance, there were unconfirmed sightings in the Magherafelt, Toome and Ballymena areas.
Previous widespread search activity of the countryside around Cookstown, using dogs and aircraft, was unsuccessful.