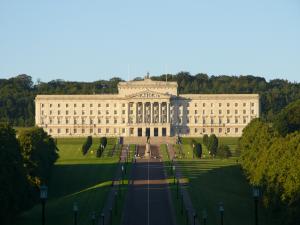 By PA
Devolved government in Northern Ireland could function without an executive and should consider continuing as just an assembly, a former first minister has said.
Former Ulster Unionist Party leader Lord Trimble said Stormont could operate in the same way the Welsh assembly did when it was first formed.
The proposals from the Conservative peer were supported by fellow peers, while Northern Ireland minister Lord Dunlop said such proposals would be considered if they avoided a return to direct rule.
Speaking as peers considered emergency legislation to extend talks on restoring devolved government in Northern Ireland, Lord Trimble said the problem at present was forming an executive.
"Well, is an executive absolutely necessary?" he added.
"I would look to what happened with devolution in Wales in its first phase, where there was a corporate assembly without an executive, which functioned and functioned, I think, reasonably effectively."
Lord Trimble said this system operated for six or seven years before the assembly decided to move to an executive.
He added: "That assembly could continue to function and it would be able to move to having an executive the moment that the parties that presently won't nominate for an executive shows a willingness to do so."
Lord Alderdice, a former leader of the Alliance Party of Northern Ireland, said he supported the proposals.
He added: "Between now and the end of June, we hope there will be agreement, but we won't be hanging on by our fingernails waiting for it.
"There needs to be, on the part of Lord Dunlop's officials, serious work done on the option of the Northern Ireland assembly operating much as the Welsh assembly did during its first number of years.
"Taking responsibility not only because it's difficult to form an executive, but because in the local councils in Northern Ireland for many years, Sinn Fein, unionists, alliance and others have been working effectively as corporate bodies and making decisions."
Labour peer Lord Murphy of Torfaen, a former Welsh and Northern Ireland secretary, said it was "an interesting comparison".
"I'm not advocating that's necessarily the best thing to do in Northern Ireland, but what I am advocating is that we have to seek out the most imaginative possibilities that we can find, so long as it retains the principle of all parts of Northern Ireland and all members of the community supporting it," he added.
Lord Empey, a former leader of the Ulster Unionist Party, also urged ministers to "look flexibly and creatively at alternatives to direct rule and an alternative to a collapse at the institutions."
Lord Dunlop said: "I'm sure such a government coming in after the election would want to examine any such solutions that are on the table.
"As it has been said by others in this debate, nobody wants to see a return to direct rule.
"We want to see a return to strong and stable devolved government in Northern Ireland."