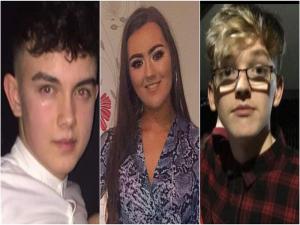 By Hannah Spratt
Police investigating the tragic deaths of three teenagers in Cookstown are keen to speak to more witnesses.
Morgan Barnard, Lauren Bullock and Connor Currie died at the Greenvale Hotel on St.Patricks night.
Officers will be at the Burnavon Arts Centre from 3pm to 8pm on Thursday evening for anyone wishing to provide information.
Anyone who has already spoken to police, and would like their evidence recorded in a written or video format is invited to attend.
Detective Superintendent Richard Campbell said: "We are grateful for the widespread support for the investigation into the circumstances that led to the deaths of Morgan Barnard, Lauren Bullock and Connor Currie that we have had to date.
The investigation is ongoing and we continue to appeal for witnesses to come forward.
"We have identified 637 young people who were in the queue or car park but we want to be satisfied that there are no other witnesses who we have not identified. It is really important for anyone who has not yet contacted us to please come forward and work with police to help build an accurate picture of what happened that night.
I would again reassure anyone with concerns that it is not our intention to pursue any young people in relation to entering or trying to enter the licensed premises. This has been agreed with the PPS. The focus of the investigation is to try to find answers for the families of the three teenagers who tragically died.
"We will be at the Burnavon Arts Centre from 3pm – 8pm tomorrow, Thursday 18th April for anyone who wishes to speak to us. Next week we will be at Ranfurly House Arts Centre in Dungannon from 1pm-8pm on Wednesday 24th April and Thursday 25th April.
"If you have already spoken to us and wish to have evidence recorded in a written or video statement, come along too.
"If you're under 18 and coming along can we ask that you do so with your parents knowledge and you'll need to be accompanied by an adult.
"Members of Health and Social Care organisations will also be there to provide advice and support to anyone affected by the tragic events."