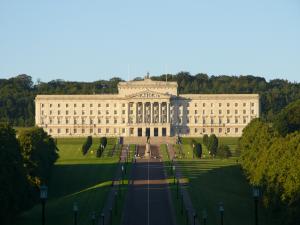 By David Young, Press Association
The prospects of a deal to save powersharing in Northern Ireland look bleak after the first week of talks ended in negativity and recriminations.
The Democratic Unionists and Sinn Fein - the two parties whose agreement is essential if a new coalition executive is to be formed - again blamed each other for a lack of progress, while the Ulster Unionists and SDLP raised serious doubts whether an accord will be reached.
The mood music has been similarly downbeat in the run up to previous historic deals in Northern Ireland, so some form of agreement may yet materialise come the effective deadline of Good Friday.
But the assessments aired on Friday afternoon in the Great Hall of Parliament Buildings, Belfast, certainly did not suggest a breakthrough was imminent.
DUP leader and former first minister Arlene Foster said: "We want to get back into devolution as soon as possible, we believe in devolution, we believe devolution is the right way to deal with people's problems in terms of health, education, to have a strong economy for Northern Ireland.
"We have set no red lines."
She added: "Others unfortunately are holding up this process in terms of their political demands and that is really regrettable."
DUP more optimistic of talks and say Govt could be formed by Monday- again blame Sinn Fein for progress pic.twitter.com/Oul7tFdBY8

— David Hunter (@davidhunter7) April 7, 2017
Sinn Fein negotiator Conor Murphy said the talks to date had been "all about process and not about progress".
"We want to see an agreement, we are still focused on securing an agreement," he said.
Mr Murphy said the majority of participants in the talks acknowledged the need for a "step change" in how government operated in the region
"Apart from the DUP and the British government everybody else gets that," he claimed.
"We need to see that type of change, we need to see agreements that were made before being implemented and thus far we haven't any progress in relation to that. So we are frustrated, I sense that some of the other parties are frustrated too.
"So rather than getting on this round-table, process-driven approach to things let's get down and crunch the key issues - everybody knows what they are, we need to get down and do that."
Sinn Fein say there's no progress to report this week in talks as it was all about 'process rather than progress' @qnewsdesk pic.twitter.com/v6q3wI2DPK

— David Hunter (@davidhunter7) April 7, 2017
Devolution crashed in January over a row about a botched green energy scheme. The subsequent snap election campaign laid bare a series of other disputes dividing the DUP and Sinn Fein.
The main stumbling blocks are the contentious issues of Irish language protections; how to deal with the toxic legacy of the Troubles and a stalled Northern Ireland-specific Bill of Rights.
Sinn Fein insists all three were integral parts of previous agreements that just need to be implemented. The republican party accuses the DUP and UK government of failing to honour obligations in that respect.
The DUP, however, claims what Sinn Fein is asking for represent new and unreasonable demands.
Northern Ireland Secretary of State James Brokenshire instigated the two-week talks process after last month's negotiations to form a new powersharing administration ended in failure.
Parties missed a deadline to get a government up and running within three weeks of March's Assembly election.
Mr Brokenshire has made clear he will start formulating legislative steps to either restore devolution or make the first moves toward direct rule over the Easter weekend - meaning Good Friday is set to be make or break for a deal.
Column Eastwood says mood in talks is negative and that @SDLPlive have 'no fear in another election' - but it's not preferred option pic.twitter.com/7mkVcPGar4

— David Hunter (@davidhunter7) April 7, 2017
SDLP leader Colum Eastwood said the dynamic of the talks needed to change dramatically if agreement was to be secured.
"At the end of another week, almost a month after the election and we still have no government and we have very, very little progress - in fact I think we are miles away," he said.
"We have no momentum in this process."
He added: "If this process doesn't ratchet up in the early stages of next week there won't be a deal, so all of us have to recommit to doing that."
Outgoing UUP leader Mike Nesbitt said soured personal relations between the DUP and Sinn Fein were preventing progress.
"If they wanted to, the DUP and Sinn Fein could cobble together some sort of agreement in five minutes, but unless they fix the relationships and build trust around the executive table and show respect to each other, whatever agreement they come up with is going to be worthless," he said.
"It is deeply, deeply, deeply frustrating to be involved in a process with people who know they can make it happen but are showing no willingness to make it happen."
The Alliance party and Irish government are also involved in the negotiation process. A small number of meetings are planned on Saturday, with the talks recommencing in earnest at Stormont Castle on Monday.