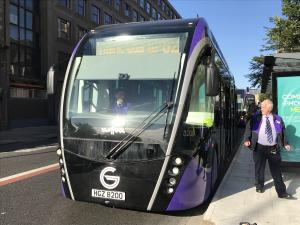 By Michael McHugh
A window of a Glider bus was smashed in West Belfast after a brick was thrown at it, the first of two similar incidents in the city, police said.
Nobody was injured in the first incident, just before 7pm on Monday in the Stewartstown Road area of Dunmury.
A crowd of youths was seen in the area at the time.
Around an hour later, another Glider was attacked nearby in an incident allegedly involving passengers, in which a brick was also hurled at a window, police said.
The PSNI added: "Thankfully the window didn't shatter, otherwise a young female passenger could have sustained facial injuries."
Inspector Karen Hamill appealed directly to those responsible, adding: "This behaviour is senseless, reckless and dangerous - and has to stop.
"The consequences are huge.
"It's not just the follow-on disruption to members of the public and financial cost of repairs, you are risking the safety, even lives, of those on board, from the driver to children and families."
She said parents and guardians needed to do all they could to prevent young people from becoming involved in such activities.
"The PSNI has today met with Translink, Unite, community and elected representatives.
"Police will maintain a visible presence in the area. And we are committed to working together to ensure the safety of members of the public and Translink staff."
SDLP Belfast councillor Brian Heading said the Glider was a great asset for people in the west of the city who have come to rely on the service.
"It is a disgrace that Translink staff have been forced to withdraw a portion of the service after coming under attack on two occasions.
"Those behind the attack have only hurt their own community. Passengers and staff on board the service at the time could have been seriously injured.
"This reckless disregard for people and property in this community cannot go on."