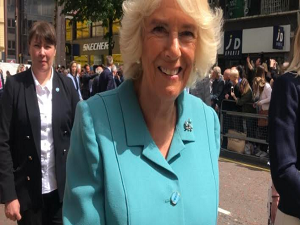 by PA Reporters & Q Radio News
The Prince of Wales and The Duchess of Cornwall have visited Bank Buildings in Belfast City Centre on day two of their visit to Northern Ireland.
Prince Charles and Camilla have just arrived in Belfast to visit Bank Buildings as part of their 3 day tour of Northern Ireland pic.twitter.com/Pe6zu3qYym

— Q Radio News (@qnewsdesk) 22 May 2019
The site of the former Primark store was completely gutted in a fire last August.
Camilla told Q radio she was 'shocked' to see the damage caused by the blaze.
Camilla, Duchess of Cornwall, tells Q Radio she found the destruction caused by the Primark fire in Belfast 'pretty shocking'. The Royals visited Bank Buildings this morning as part of their 3 day tour of Belfast: pic.twitter.com/dccGPPryuN

— Q Radio News (@qnewsdesk) 22 May 2019
Hundreds of people lined up along Donegal Place to catch a glimpse or snap a photo of the royal pair.
Joe from Belfast says it's not the first time he's seen the Royals. Today he got a photo and a handshake from Camilla as she visited the city centre. pic.twitter.com/j39MdFhpIj

— Q Radio News (@qnewsdesk) 22 May 2019
These two ladies are full of compliments for Camilla, the Duchess of Cornwall, who shook their hands on a visit to Belfast today: pic.twitter.com/gzQ0C6571E

— Q Radio News (@qnewsdesk) 22 May 2019
The Duchess of Cornwall also visited a homeless charity complex beside a section of Belfast's longest peace wall for a solo visit.
The Belfast Welcome Organisation is based on Townsend Street, just yards from heavy metal gates which form part of the peace wall which divides the mainly Unionist/Loyalist lower Shankill Road from the mainly Nationalist/Republican Falls Road.
It has been providing services and support for people affected by homelessness in the city since 1997.
The organisation started off as a community-based drop-in centre and has grown to now offer a street outreach service, crisis accommodation for women, a floating support service and growing furniture project Welcome Home.
Camilla was guided around the charity's shop by chief executive Sandra Moore and met a number of its staff, volunteers and clients before seeing the workshop where items of furniture are upcycled for sale.
She also spoke with a number of homeless women who come to the centre every day to use its services and learn to upcycle furniture for sale in the shop.
"That's so important to restore your confidence," she told one woman, who had described to her how much the charity's services mean to her life.
"It gets you on the path, and once you are on the path you're going. You are all very brave to talk."
Praising the produce sold in the shop, she added: "The shop is just incredible, real talent."
The duchess was then invited to try her hand at some craftwork before being presented with a "Belfast Newsie" cap crafted from traditional Irish tweed.
She also met Lee-Maria Hughes, whose sister Catherine died at the age of 32 on the streets of Belfast.
The Prince of Wales met a woman rescued from Czechoslovakia on the eve of the Second World War as he visited a synagogue in north Belfast.
Ruth Kohner, 82, was part of the Kindertransport in 1939 which brought Jewish children to the UK and safety from the Nazis. She was aged two.
She said: "It saved our lives, it must have been very difficult for my parents, who had travelled 10 days by train, to bring me and my sister to escape, but they saved our lives."
Her father lost many relatives in the concentration camps, left his mother behind and knew he would never see her again.
She spent the war at a farm in Millisle, near Belfast, along with other rescued youngsters and went on to run a family clothing business for many years.
She said Charles asked her several questions when he met her at the Jewish community's place of worship in north Belfast.