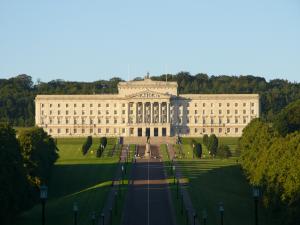 By David Young and Deborah McAleese, Press Association
Talks aimed at restoring Northern Ireland's powersharing government have resumed.
Stormont parties missed last week's deadline for forming an executive after negotiations broke down and Sinn Fein said it would not nominate a deputy first minister.
Political leaders were subsequently invited by Secretary of State James Brokenshire to participate in a fresh round of talks in a bid to break the deadlock.
Officials met this morning in Stormont Castle, Belfast, to discuss how the agenda will shape up in the coming fortnight. Party leaders then held talks.
The UK and Irish governments have said they want regular round table meetings - something that was absent in the last process.
The Head of the Civil Service has been called in to chair some talks.
Sir Malcolm McKibbin will lead meetings between parties, but not those discussing legacy issues.
Two of the main stumbling blocks to a successful outcome are the divisive issues of Irish language and how to deal with the toxic legacy of the Troubles.
Devolution imploded in January over a row about a botched green energy scheme.
While the government is statutorily obliged to call another snap election if a new deadline is missed, Mr Brokenshire has said he believes there is no public appetite to go back to the polls.
Mr Brokenshire has signalled April 18 as an effective deadline for progress to be made.