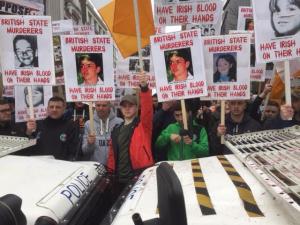 By David Youngs, Press Association
A military veterans' rally has commenced amid tight security in Belfast as hardline republicans protested only yards away.
The event and counter-demonstration started peacefully amid a tense atmosphere in the city centre.
The rally, organised by Justice for Northern Ireland Veterans (JFNIV) is seeking to highlight what it alleges is a legal witch-hunt against former security members who served during the Troubles.
There are similar rallies taking place in London and Glasgow organised by a campaign group formed in response to a number of recent prosecutions of former soldiers in relation to incidents during the region's sectarian conflict.
A republican group gathered for its own rally in Belfast.
Saoradh, which means liberation in Irish, was formed in 2016 with the backing of dissident republican prisoners.
Around 150 participants stood on the other side of a police line holding placards and singing anti-British songs.
Outside City Hall, on the other side of the road, pipers played and speakers called for an end to what they alleged was unfair treatment of former security force members.
A crowd of around 500 attended the veterans' rally.
The JFNIV event in London is taking place at Horse Guards Parade, while George Square will be the focus of the Glasgow demonstration.
Last year, two former soldiers were told they will be prosecuted for murder over the 1972 death of official IRA commander Joe McCann. Another prominent case involves retired soldier Dennis Hutchings.
The 75-year-old is to face trial accused of attempting to cause grievous bodily harm in relation to a fatal shooting in 1974.
Hutchings, from Torpoint in Cornwall, is due to address the veterans' rally in London.