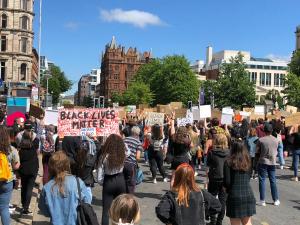 by Q Radio News
Thousands of people gathered in Belfast city centre earlier for a Black Lives Matter demonstration.
Protests were sparked all over the globe following the death of American George Floyd.
The African-American man died nine days ago after being arrested in Minneapolis, when a white police officer kneeled on his neck.
The video of Mr Floyd during his last moments went viral, as he pleaded with officers saying "I can't breathe".
This led to civil unrest and widespread demonstrations across the United States, which have now reached Ireland and the UK.
In Belfast, Donegall Place around Belfast City Hall was packed with protestors as various speakers sang and chanted for more than an hour.
🎥 Large crowds have gathered at City Hall in Belfast in solidarity with @Blklivesmatter campaign and the #GeorgeFloyd protests taking place across the US. pic.twitter.com/6ay1UH24eX

— Q Radio News (@qnewsdesk) June 3, 2020
Local demonstrators say they're standing in solidarity with those in America and against all racism.
Meanwhile, concern was raised about protestors not adhering to covid-19 measures including social distancing as they packed together in the streets of Belfast.
Stormont's Economy Minister said Northern Ireland remains at a "critical stage" in tackling coronavirus.
Therefore, she urged all Belfast demonstrators protesting against George Floyd's death to exercise responsibly.
"We all have watched with horror the video of George Floyd, the terrible things that have happened,"
She added campaigners should remember the need to protect those at home as well during the pandemic.
"We are at a critical stage. While we may want to stand in solidarity with those in the US who have been grievously hurt, we have to have a responsibility to ourselves and others in our immediate vicinity here in Northern Ireland,"
Hundreds protested at Belfast City Hall in support of @Blklivesmatter, holding banners saying "We need to change" and "I can't breathe" in solidarity with #GeorgeFloydProtests in the US. #BlackLivesMattter pic.twitter.com/DnHBbiAWRM

— Q Radio News (@qnewsdesk) June 3, 2020