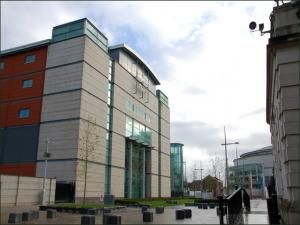 By Paul Higgins
TWO Romanian men accused of human trafficking and controlling prostitution were remanded into custody today (sat).
Belfast Magistrates' Court heard claims that from a nine month police investigation, Decebal Mihai (28) and Spartacus Ilie Mihai (20) had handled just over £165,000 cash between them.
The Romanian men face five charges each after they were arrested following the mammoth police surveillance operation.
Decebal, of Kenlis Street in Banbridge, and Spartacus, of Henley Road in Ilford in Essex, are each charged with controlling the activities of another for gain from prostitution and of conspiring with each other to facilitate the travel within the UK of persons with intent to exploit them.
They are further charged with concealing, converting and transferring criminal property, namely money, to the value of £140,528 in the case of Decebal and £24,522 in the case of Spartacus.
All the charges are dated between June 21, 2016 and May 25 this year.
A police officer told the court that an investigation discovered that the two men appeared to be controlling women for prostitution in the Banbridge and Belfast areas.
The pair were allegedly observed driving women to clients for sex and further research uncovered bank accounts and moneygram transfers of large amounts to Romania.
The officer said that the men were transferring money into their own accounts and not those of the women they allegedly controlled and that they made regular trips back and forth to Romania.
Objecting to the pair being released on bail, the officer said they posed a flight risk as police were unable to locate their passports and that they feared the men would be able to control the alleged victims.
According the officer Decebal Mihai has a record for offering bribes in Romania but Spartacus Mihai has no criminal convictions.
Three women were found living with Decebal in a property in Banbridge while one woman was found to be living with Spartacus at an address in Belfast.
Under cross examination by a defence solicitor for Decebal, the officer confirmed the women involved did not wish to interact with the police investigation and had refused to enter protective custody.
The solicitor told the court that two of the women claim to be partners of the accused and were in attendance in court in support of the men.
Arguing for his client to be released on bail, the lawyer said that it would some time for mobile phones seized to be examined and that a £5,000 cash surety would be available from family in England.
A solicitor for Spartacus told the court that he co-operated with police and he denies all the allegations.
Refusing bail however District Judge George Conner said it was a very serious matter, there was a risk of interference with witnesses and of them fleeing the jurisdiction.
The pair are due to appear in court again on June 19.