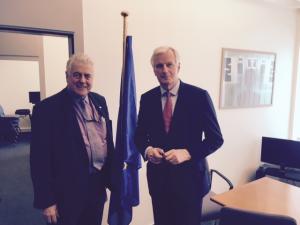 MEP Jim Nicholson and EU chief negotiator Michel Barnier talk after the verbal spat
By Bob Huggins
A Northern Ireland MEP has clashed with the EU's chief negotiator in Strasbourg.
The incident came during a debate calling for Ireland's special circumstances to be addressed in any Brexit agreement.
The motion, which was passed, refers to the need to ensure continuity and stability of the Northern Ireland peace process.
However as Ulster Unionist MEP Jim Nicholson delivered an address the EU's chief negotiator Michel Barnier appeared to be distracted.
Nicholson told Michel Barnier he should "actually listen to the speech" rather than "twiddling with your telephone".
He made the warning to Mr Barnier during his speech on the EU's negotiating guidelines for the UK's exit from the union.
Mr Barnier was prompted by an advisor before putting on headphones to listen to Mr Nicholson's contribution.
MEPs backed the motion setting out the European Parliament's position for the Brexit talks by 516 votes to 133.