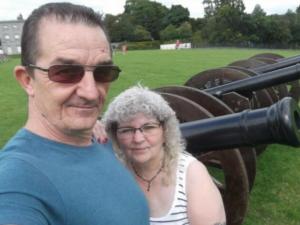 by Q Radio News - copy by Ashleigh McDonald
Married paedophiles Gary and Heather Talbot, who photographed themselves naked and abusing a toddler they'd raped, were today (MON) sentenced to a total of 24 years between them.
Judge Piers Grant told the abusive husband and wife the "depraved" and "disgusting" offences they carried showed "obvious wickedness and wrongdoing".
The Judge said there actions "will provoke a sense of disgust and even disbelief that anyone could act in this way, particularly towards a child of such tender years."
Gary Talbot, who took the blame for introducing "children to his and Heather's sexual relationship", was sentenced to 12 years for abusing the girl when she was a toddler, with an additional three years imposed for abusing her again when she was aged 13/14.
He will serve seven-and-a-half years in prison, followed by the same period on licence when he is released from jail.
His 59-year-old wife Heather, who at one stage said it was "just a fantasy we carried too far" before claiming it was all to do with her husband and she only "played along", was given a nine-year sentence.
She was told she will spend six years of her sentence in jail, while the remaining three years will be spend on supervised licence.
The couple were also both made the subjects of a Sexual Offences Prevention Order which will remain in place for life, and will also be on the Sex Offenders Register for an indefinite period.
Standing in the dock of Downpatrick Crown Court, sitting in Belfast, neither showed any emotion, not even to acknowledge each other, while just yards behind them, comforted by family and friends, sat their now grown-up victim in the public gallery.
The 60-year-old former schoolbus driver and postman, and his wife are from Kinghill Avenue in the Co Down seaside town of Newcastle.
For 15 years the perverted abuse, internet chats and boasts to other paedophiles remained a secret. That was until October 2017 when police seized their computer equipment, along with a hard-drive from a locked cupboard, opened by a key hidden within the pages of the novel 'Lolita', on their bedside table.
In May last year, the paedophiles admitted the abuse, carried out over a three year period from 2001 to 2003 against the child then aged between 18 months and three years and three months.
Gary Talbot admitted a total of 16 charges including two rapes, gross indecency, indecent assault, and taking and distributing indecent images of the child, and a separate charge of sexually assaulting a 13-year-old teen sometime between July 2012 and July 2014.
His wife admitted ten charges, ranging from aiding and abetting her husband to rape the little girl, taking pictures of her husband doing so, indecently assaulting the child and committing acts of gross indecency.
Last month prosecution QC David McDowell outlined in detail, too graphic to report, the couples' perverted offending, and of their attempts to distance themselves when quizzed by police about their abuse of the youngster, so young she had no memory of what had been done to her.
Mr McDowell said detectives recovered 47 indecent images taken of the toddler, apparently recording three separate instances of abuse, including her being raped, with the couple naked in some. Others showed her dressed in 'sexy' clothing especially bought for the occasion.
When initially questioned Gary Talbot gave 'no comment' answers, even denying having any sexual interest in children, before admitting by his third interview: "It is just the wrong road I have taken".
And while he initially 'disputed' claims of raping the child, until shown "a clear photograph", he finally admitted being 'totally ashamed', although he claimed he only "looked at the image twice in 15 years, but not for sexual gratification".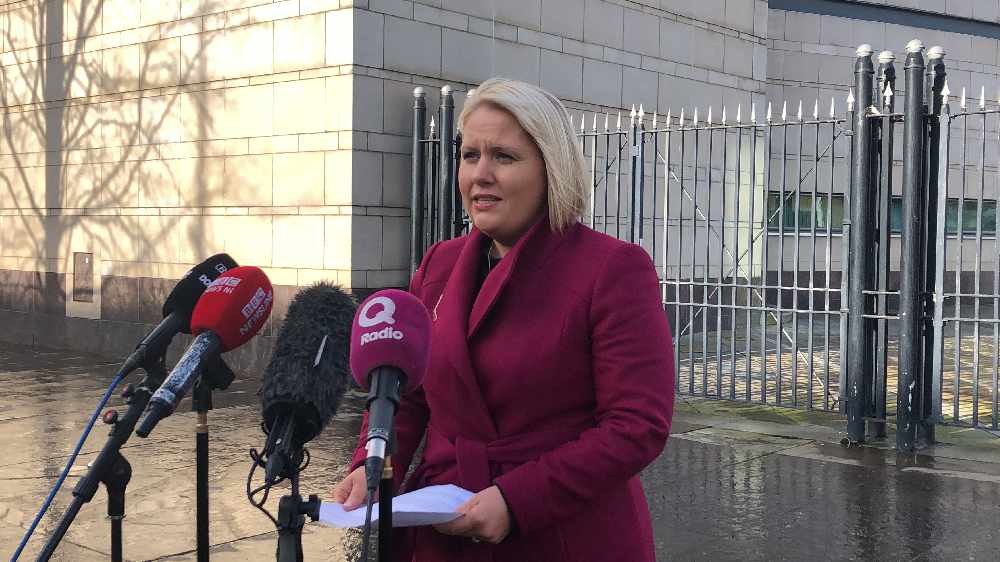 (PSNI Detective Chief Inspector Claire McGuigan read a statement on behalf of the Talbot's victim, outside court in Belfast)
Talbot later accepted "going through a phrase where he was sexually attracted to children" and it was "around this time when he abused" the toddler, and "it was he who had introduced children to his and Heather's sexual relationship".
It was also his idea to buy clothes from Dunnes, to dress-up the child for 'posing', pictured surrounded by pornographic magazines. However, he claimed the youngster had posed with the magazines, "of her own accord".
Talbot also down-played the couple's online chatroom activities, using the names 'Mike and Fiona', claiming he'd been "embellishing for the sake of the chats". Later he confirmed he'd been talking about the toddler and had "shared the indecent images" of her.
His wife Heather also attempted to minimise her role, telling detectives, she was "60 - 70% confident" the images were of the toddler, but denied being "aware of the photograph" of her husband raping the toddler.
While she later commented it was, 'just a fantasy that we carried too far', she corrected herself, saying, 'it was his fantasy, not mine really'," before adding she had just "played along".
Distancing herself further, she claimed the abuse occurred while she was working or shopping, continually denying being present during the rapes. However, she accepted buying more than one outfit for the youngster, and dressing her up, "once or twice, it was no more than that".
Mr McDowell said by her last interview Heather Talbot "repeated her denials" of taking the photographs, claiming the rape pictures were "taken using a tripod and when she dressed the toddler up, she did not think it would go as far as it did".
Defence QC Greg Berry for Gary Talbot said his admissions, which allowed for the identification of his victim were made out of a sense of shame and remorse, sparing their victim having to give evidence, which was all the more demonstrative of his genuine remorse.
Eugene Grant QC, described a remorseful Mrs Talbot as a "reluctant participant" in what had been her husband's fantasies, and "disgusted" with herself that it ever happened, had "blotted it out" by placing it at the "back of her brain."
During today's sentencing, Judge Grant said that after reading a Victim Impact Report, it was obvious the abused has had an impact on her.
Judge Grant said the now 20-year old revealed she doesn't really trust men, feels uncomfortable when she sees men with gelled back hair, suffers from sleep disturbances and has problems concentrating on her college work.
The Judge said she was "extremely vulnerable and quite defenceless" when she was being abused by the Talbots whose criminality against a child was "planned, carefully considered and pre-meditated."
After sending the couple to prison, Judge Grant said he hoped the jail terms gave the young woman "some comfort" and added "the court wishes her well in the future."
Meanwhile, following the sentencing PSNI Detective Chief Inspector Claire McGuigan described the case as "hugely disturbing and harrowing" and welcomed the jail sentences.
🎥 Detective Chief Inspector Claire Mc Guigan welcomes the sentencing of paedophile couple Gary and Heather Talbot, who sexually abused a toddler. She described it as a "hugely disturbing and harrowing case". pic.twitter.com/cSd7D4tee1

— Q Radio News (@qnewsdesk) February 10, 2020
DCI McGuigan also read a statement on behalf of the couple's victim, who said she is "glad" her abusers have "finally faced justice and will have to serve time in prison for what they did".
🎥 @PoliceServiceNI DCI Claire McGuigan has read a statement on behalf of sexual abuse victim of paedophile couple Gary and Heather Talbot. "I was only a child when they took my innocence away, the abuse left me traumatised, upset and betrayed my trust". pic.twitter.com/gEgmYMsMzV

— Q Radio News (@qnewsdesk) February 10, 2020
In her statement the victim also said, "I was only a child when they took my innocence away. The abuse left me traumatised and upset as they betrayed my trust in the most despicable way.
"The trauma caused me to lose all my childhood memories and develop PTSD (post-traumatic stress disorder).
"The past year has been very difficult for me, my family and friends.
"I would like to thank them for being there for me, not only for every court hearing but for supporting me day to day as I have struggled to come to terms with my abuse.
"I would also like to thank the police detective who investigated my case. She has been thorough and dedicated whilst at the same time being compassionate, caring and kind to me."