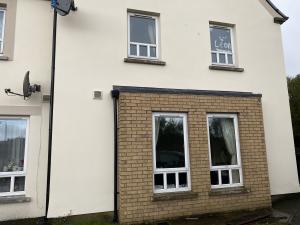 By Brett Campbell
A mother was forced to dangle her newborn baby from an upstairs window as she escaped from her home which was petrol bombed in Dungannon last night.

The infant was strapped into a car seat before being lowered onto a ledge of the property on Killymaddy Hill shortly after 9 o clock.

Neighbours rushed to the scene after seeing a bright flash and hearing a commotion involving two men who were armed with a knife.

This woman caught the baby.


A 4-year-old boy also escaped unharmed along with his Granda.

Two suspects have been arrested.
Detective Sergeant Robinson said: "Shortly after 9:05pm it was reported two males arrived at a house, and that one of them may have been armed with a knife.
"When police arrived at the address, it was reported a petrol bomb had been thrown at the property, and a garden bench had been used to ram the front door, breaking a pane of glass. It was reported a second petrol bomb was thrown into the house.
"None of the occupants in the house, which included a man and a woman and young child and a baby, were injured, however this must have been a terrifying ordeal for them.
"This was a reckless attack which could have had a devastating impact, resulting in serious injury or worse."