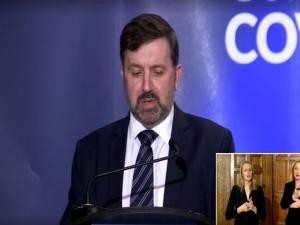 Health Minister Robin Swann
By Q Radio News
The Health Minister has announced a further £11.7 package of support for care homes in Northern Ireland.
It comes after official figures from the Northern Ireland Statistics and Research Agency show people residing in care homes here, have accounted for more than half of Covid-19 related deaths.
NISRA records all fatalities where Covid-19 is mentioned on a death certificate.
Chief Social Worker for Northern Ireland Sean Holland says the financial package will enable homes to pay staff 80% of their salary when on sick leave for Covid-19 related reasons.
Chief Social worker for NI, Sean Holland outlines the new £11.7 million funding package for care home sector.
Money will be split between sick pay for staff who are forced to isolate, shield or contract covid-19 - additional cleaning in homes and proving specialist equipment. pic.twitter.com/84SNHJwGHd

— Q Radio News (@qnewsdesk) June 2, 2020
Health Minister Robin Swann also stressed that work is ongoing to ensure lessons from the pandemic are learned and implemented in the sector.
"Care homes remain at the forefront of our battle against the virus and it is essential that they are provided with as much support as possible. I keep reminding everyone that the threat from Coronavirus is far from over and this certainly applies to our care homes.
"The threat will be with us on a long-term basis so it is vital that we learn lessons from the devastating experiences in care homes not just here, but internationally."
The £11.7m financial package will enable homes to pay staff 80% of their salary when on sick leave for Covid-19 related reasons. It will also provide support with cleaning costs and the provision of specialist equipment.
Many care homes have already enhanced their cleaning regimes to reduce infection transmission. This new funding will allow all care homes to implement significantly enhanced cleaning regimes, reflecting the importance of measures such as basic hygiene and cleaning in combatting the virus.
Covid-19 does not always present in the typical way in older people. Up to £2.2m of the funding will be for the provision of new equipment - including thermometers and pulse oximeters - to enable recording of clinical observations. This will help with early identification of a wider range of symptoms that may indicate an infection and allow for prompt clinical responses. These responses can be delivered by the multi-disciplinary team in a range of ways, including nursing care by staff in the nursing or residential care home; specialist in-reach clinical input that may include medical, nursing and allied health professional expertise; or, transfer to hospital where appropriate and in accordance with the individual's wishes.
Mr Swann says the money will make a huge impact,for the better and also urged people to keep adhering to government guidelines:
Opening Stormont press conferences, Health Minister @RobinSwannMoH warns covid-19 pandemic is not an "extended holiday".
He says complacency is setting in after seeing large crowds queuing for shops. pic.twitter.com/DxkZequWYP

— Q Radio News (@qnewsdesk) June 2, 2020
The new funding will also support the widespread use of tablet devices in care homes to ensure online communication with families in the continuing absence of visits.
"The Covid-19 emergency has shone a harsh light on the long-standing challenges facing social care. I am committed to tackling these issues through investment and reform," the Minister continued.
He also stated that a Rapid Learning Initiative is underway, to identify lessons from care home experiences of Covid-19. This will involve input from the care home sector and from across the Health and Social Care system.
"We owe it to those who lost their lives in care homes and their families to learn and implement lessons. Northern Ireland is far from unique in experiencing these tragedies. One life lost is one too many and a matter of great regret."