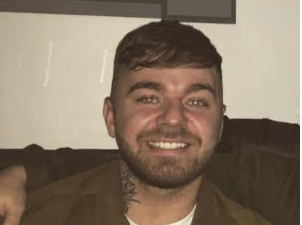 Saoradh chairman 23-year old Jude McCrory from Magowan Park in Derry/Londonderry
By Q Radio News
The Derry/Londonderry chairman of Saoradh appeared in court today along with three other men, following a riot at outside Maghaberry prison.
While Saoradh chairman 23-year-old Jude McCrory was charged with disorderly behaviour, the other three, Emmet McSheffrey (21) and 20-year-olds Caoimhin Murphy and Jordan Devine, were all charged with rioting at HMP Maghaberry on 26 September this year
Appearing individually at Lisburn Magistrates Court on videolink from police custody, McSheffrey, from Oakland Park in Derry, Murphy, from Altowen Park in Coalisland and Devine were also charged with having fireworks without a licence
Giving evidence to the court a Detective Sergeant said he believed he could connect the men to each of the charges which he said arose following an overnight protest, involving "over 100 people" at the prison visitors centre, revolving around the treatment being received by a remand prisoner.
The officer started to tell the court that in addition "a number of prisoners in Maghaberry are fasting or refusing food" but District Judge Rosie Watters told the cop "I don't need to know all of that."
It is understood the prisoners are protesting over prisoner Dr Issam Bassalat being held in a Covid-19 isolation area after he returned to prison from hospital.
It has been prison policy to quarantine for two weeks any prisoner who leaves the jail.
A police officer was hurt during the disturbances and in court today, the DS said there had been a "confrontation with police" and that some of the protestors had let off fireworks, including "fireworks thrown over the perimeter fence."
Devine, from Synge Court in Londonderry, is alleged to have "thrown at least five missiles" at police said the detective adding that the case against McCrory, from Magowan Park also in Derry, differed from the others as he was charged with disorderly behaviour.
That offence arose, claimed the cop, when others were being arrested so "it is separate from the activity of the protestors."
He said that despite the fact McCrory "has a terrorism related conviction," the police did not object to him being granted bail, albeit with some attached conditions.
Nor did they object to any of the defendants being freed on bail and the officer said while the police is do not have "evidence that they organised it [the protest] but certainly they're influential."
The detective had asked for conditions to include a curfew and a prohibition in being in a private vehicle but following defence submissions, DJ Watters said she was not going to add those on.
Defence lawyers argued that with Dr. Bassalat's quarantine ending tomorrow, "there will be no further protests."
All four were freed on their own bail of £500 with conditions that they live in addresses approved of by police, report to police three times a week and are "not to be within 100 metres of a notified or unnotified protest."
The cases were all adjourned to 26 October.