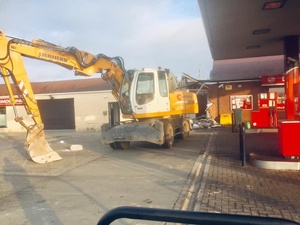 by Q Radio News
Police have recovered a cash machine that was stolen from outside a petrol station in Omagh.
A digger was used to remove the ATM from the shop wall on the Killyclogher Road early yesterday morning.
The cash-box was found on the Knockmany Road area of Clogher last night and has been taken away for examination.
Yesterday Glynn Roberts, Chief Executive with Retail NI, described the incident as the latest in a string of these attacks on local shops across Northern Ireland.
He'll be meeting with the PSNI on the 25th February to discuss the issue:
West Tyrone MLA Daniel McCrossan said there's been a scourge of ATM thefts across Northern Ireland:
"This theft is yet another example of criminals targeting rural areas where they think they can get away with these deplorable acts.
"There has been a scourge of ATM thefts across the North recently and many of these have happened in Tyrone.
"I do have concern that so many of these thefts are happening yet I am seeing very little in terms of arrests, prosecutions and indeed preventative action by the PSNI.
If Idiots like this would go out and do a days work instead of stealing from those who work hard to make ends meet, they'd soon realise how hard it is for businesses and staff in these areas to keep their heads above water, especially in rural communities.

1/2 pic.twitter.com/0QkwSJJqME

— Daniel McCrossan MLA 🕊🇪🇺 (@McCrossanMLA) 15 February 2019