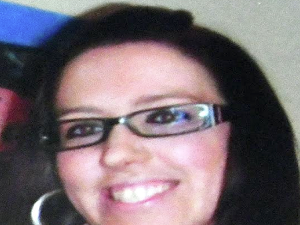 By Ashleigh McDonald

A 40-year old Belfast man who killed a mum-of-two in a stolen car whilst being chased by police was handed an 11-year sentence today (Wednesday).

Belfast Recorder, Judge David McFarland, told Martin Alexander Nelson that his actions last April had robbed a heartbroken family of a much-loved mother, daughter and sister.

Lisa Gow died after she was struck by a car as she walked on the Ballysillan Road on the morning of April 19 last year. The 32-year old - who was mum to Olivia and Riley - died at the scene, and her family said they have been "living a nightmare" where "even breathing hurts" as a result.

Her relatives packed the public gallery of Belfast Crown Court to see the man responsible for her death sentenced - but left when an eight minute video of footage from a police helicopter was shown which depicted Nelson's driving and the fatal collision with Ms Gow.

The footage showed the stolen Audi driving in Middlepath Street at 10.48am, and recorded Nelson as he drove on the M3 at speeds of up to 117mph. He was also recorded driving on roads in north Belfast including the Whitewell, Floral and Antrim Road.

Nelson jumped traffic lights, drove on the wrong side of the road and drove twice the speed limit in residential areas. The recording ended with Nelson striking a van on the Ballysillan Road close to the leisure centre which caused the Audi to spin out of control before colliding with Ms Gow as she stood on the footpath.

Several times during today's sentencing, Nelson had to be roused by prison staff after appearing to fall asleep in the dock.

From Ardoyne Road, Nelson has amassed 242 previous offences which includes 55 prior motoring offences. As well as being jailed, he was also banned from driving for 15 years which the Judge said was "appropriate to protect the public."

He pleaded guilty to a six offences which culminated in Ms Gow's death - including breaking into a house and stealing car keys, and returning to the same property two days later when he stole an Audi A4. He also admitting driving the stolen car dangerously on various roads in north Belfast, and causing Ms Gow's death by dangerous driving.

On the afternoon of the fatal collision, Nelson was being pursued by police who had deployed sirens, flashing lights and a 'stinger' in a bid to make him stop the car.

Prosecuting barrister David Russell revealed that two days before the fatal incident, Nelson broke into a house on the Cavehill Road and stole car keys and other items. He returned to the house in the early hours of April 19 and this time he took the car.

Mr Russell said police observed the stolen Audi in the city centre around 10.17am on April 19, and three police vehicles were deployed as well as the police helicopter.

Highlighting a course of dangerous driving over 8.8 miles, Mr Russell said Nelson's average speed on the Ballysillan Road was 63mpn in a 30mph zone, adding it would have been "obvious" he was being chased by police due the sirens and lights.

At the point of impact, one of the Audi's rear types was deflated as a result of stinger which was deployed on the Antrim Road.

Mr Russell described the incident as a "long course of bad driving" and said that at the time Nelson was not insured, was a disqualified driver, and was out on licence.

Noting Nelson's "poor record", Mr Russell concluded the Crown case by saying the defendant "was well aware of the risks he was taking and was aware of police attempts to stop him."

Kieran Mallon QC, acting on behalf of Nelson, said his client fully accepted responsibility and acknowledged the pain, distress and level of loss his actions have caused the Gow family.

Citing Ms Gow's death as "senseless and avoidable", Mr Mallon pointed out that from the point of impact right up to today, Nelson admitted his guilt. The barrister revealed that after being arrested, Nelson told a civilian detention officer 'I struggle to close my eyes without seeing it over and over again - that girl dying."

Mr Mallon said "the evidence of remorse is aplenty", and asked the court "not to be dismissive of this genuine remorse for the devastation he had brought upon this family."

The barrister also revealed that Nelson has a history of alcohol and drug abuse, that he burgled to feed his habit, and that he used drugs as a "coping mechanism."

After listening to both the Crown and defence, Judge McFarland addressed Nelson and told him he agreed with the Probation Board's assessment that he was dangerous.

The Judge noted Nelson's age, criminal record and the fact the offences were committed a matter of weeks after he was released from custody on licence.

The Recorder told Nelson: "Many young offenders may settle down but that has not been the case with you. You have been through the system and at 40, you are still involved in serious offending.

"You have failed to respond to intervention in the past. It is significant that you received a sentence in this same court and served part of it in custody and part of it on licence - the latter when it was hoped you would live a law-abiding life.

"However, within a matter of days you were back stealing cars, committing burglaries and driving cars in a dangerous fashion."

Judge McFarland also spoke of the "significant impact" the loss of their mother has had on Ms Gow's two young children.

Nelson was handed an 11-year sentence, and as he was found to be dangerous, he will not automatically be eligible for release after serving half his sentence.

His release will be determined by the Paroles Commission, and after serving his 11-year sentence, he will served an extended licence period of three years, to protect the public.