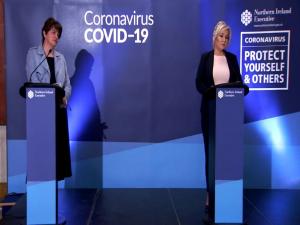 By David Young, PA
Confusion over what manufacturing and construction work should continue during the coronavirus crisis must be addressed, Stormont's leaders have said.
Arlene Foster and Michelle O'Neill acknowledged the need for greater clarity for the sectors.
On Tuesday, the first and deputy first ministers published a list identifying what businesses in the retail sector could remain open during the emergency.
They said similar guidance was needed for manufacturing employees and construction workers.
Aircraft manufacturer Bombardier, one of Northern Ireland's largest employers, is among businesses to have halted production.
But many others continue to operate, with some workers raising concerns about their safety amid uncertainty on whether they are engaged in essential jobs.
The Construction Employers Federation (CEF) called for all non-essential building work to stop.
Ms O'Neill said building sites could remain open, but only if social distancing guidelines were strictly observed. She said there could not be a situation where three or four builders were travelling together in works vans.
"As things stand manufacturing and construction firms can continue to operate as long as they're providing strict social distance measures and that is strongly reinforced," she said.
"We accept this is a very confusing picture."
Mrs Foster said: "We do accept that in terms of manufacturing and in terms of construction, that it is something that needs to be clearer."
The ministers suggested that the lack of financial support for sole traders and the self-employed was a reason why many people were still trying to keep working.
Mrs Foster and Ms O'Neill both expressed disappointment that the Government had yet to outline support measures for those individuals.
"We are disappointed that the package hasn't come from the Chancellor (Rishi Sunak) today in relation to self-employed support, we had understood that there was a package coming," said the DUP leader.
"I am confident that there will be help for the self-employed. It's just disappointing that it hasn't come today to give clarity on that issue."
Ms O'Neill added: "We still do not have clarity in terms of self-employment support. And that is something that we're pushing very strongly for. We're disappointed that we didn't have an announcement on that today."