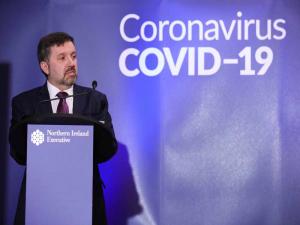 By Q Radio news and PA.
Making the two-metre social distancing guidance enforceable by law would heap enormous pressure on an already-stretched police service, Stormont's health minister has said.
Robin Swann said he does not favour beefing up Northern Ireland's Covid-19 regulations to give police more powers to stop people congregating.
At present, the two-metre social distancing measure is a guideline, not a rule.
Mr Swann's comments came as several beaches and visitor spots in the region have witnessed large crowds in recent days, with reports of drinking and anti-social behaviour by some young people.
Opening Stormont press conferences, Health Minister @RobinSwannMoH warns covid-19 pandemic is not an "extended holiday".
He says complacency is setting in after seeing large crowds queuing for shops. pic.twitter.com/DxkZequWYP

— Q Radio News (@qnewsdesk) June 2, 2020
Addressing the daily Covid-19 briefing at Stormont, Mr Swann warned that the lockdown should not be treated as an "extended holiday".
He said he did not intend to "lecture" young people, but he urged them to show restrain, stressing that lives were still at risk.
"Catch yourself on, wise up" - Health Minister @RobinSwannMoH
message to large crowds of young people ignoring guidelines and those who assaulted a PSNI officer last weekend.
He described the incident as "despicable".

— Q Radio News (@qnewsdesk) June 2, 2020
On Tuesday, Stormont's Department of Health said two more people with Covid-19 had died, bringing the total recorded by the department to 526.
"I don't think we're in a place yet where we need further legislation to actually bring in further penalties on those young people who are gathering," said Mr Swann.
"What I'm asking them to do is act responsibly, to think about their actions and the effect their actions will have on their loved ones should Covid be found in their group of friends and the onward transmission that will have.
"In regards to empowering police to enforce a two-metre distance, I think that would put enormous pressure on an already under-pressure police force at this moment in time."
Northern Ireland is set to introduce a series of lockdown relaxations next Monday if the data presented to Stormont ministers on Thursday shows the transmission of the virus remains under control.
If the R rate - the number of people an infected person infects - remains below one this week, ministers will give the go-ahead for those shielding to go outside with people from their own household, or one person from another household if social distancing is observed.
They will also sanction the reopening of more retail outlets and give the go-ahead for small outdoor weddings.
Mr Swann did not disclose the current R number on Tuesday but said he was "hopeful" the changes could be approved as planned on Thursday.