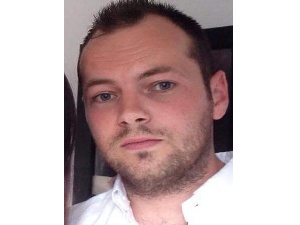 By David Hunter
A 30 year old man arrested over the murder of Paul McCready in Belfast city centre has been released.
The father of two died in hospital after a fight broke out in a bar on Sunday morning and spilled out on to the street.
The suspect was arrested at the scene but has been released pending a report to the Public Prosecution Service.
31 year old Mr.McCready had been engaged to get married at the time of his death
Detective Chief Inspector Geoffrey Boyce said: "My team have carried out extensive enquiries following the death of Mr McCready on Sunday.
"CCTV footage has been examined and statements taken from over 20 people in our effort to gather as much information as possible about this tragic incident.
"Following consultation with the PPS, a file will be forwarded to them in due course.

"I would appeal to those people who were in the Donegall Street area at the time of the incident and who haven't yet got in touch with the investigation team to phone now and tell us what they saw."