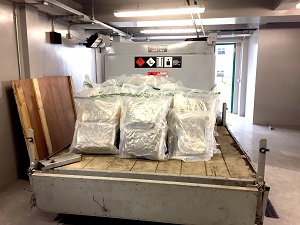 By Paul Higgins, Donal McMahon and Q Radio staff reporters
Three men who admitted involvement in a "highly sophisticated" £1m cannabis smuggling operation, one of the largest ever uncovered in NI, have been jailed for a total of 45 months.
At Newry Crown Court, Judge Gordon Kerr QC jailed the "main organiser" 43-year-old James McAleese for 18 months, while his accomplices 33-year-old Kevin McPolin and Niall Mallon (39) were jailed for 15 months and 12 months respectively.
All three men face the same amount of time on supervised licence conditions once freed.
Taking each defendant in turn, Judge Kerr told McAleese he had been the main organiser, he had "devised the method of importation and the method of concealment in the fuel tank and organised the transportation north."
"He did do for financial gain and stood the make significant, unlawful profit declared the judge.
In relation to McPolin, Judge Kerr said his role had been to drive the fuel tanker from Dublin to NI and that while he claimed his role was not planned, "I treat with scepticism" that suggestion as "I am not convinced that McAleese just randomly, at the last minute, picked someone to pick up the drugs."
Turning to Mallon, who accompanied McPolin in the tanker, the judge said it was clear from the various reports before him that he played a lesser role and that his IQ was "well below average" so he was "not likely to have been able to take any significant role in the planning of this operation."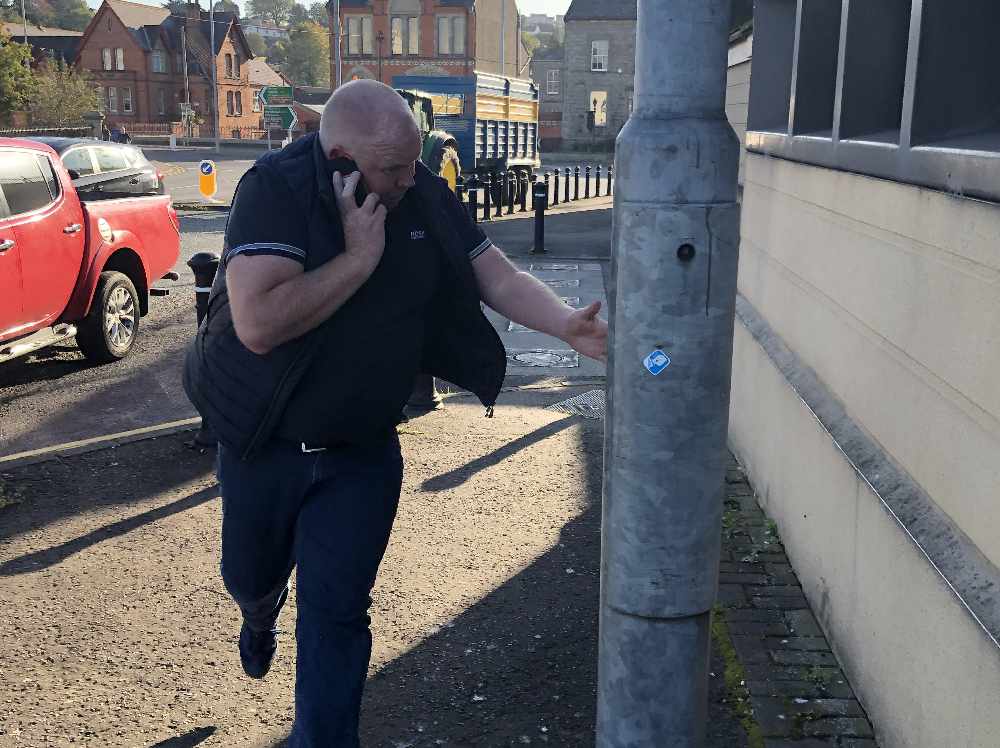 IMAGE: "main organiser" in a £1m cannabis importation operation, James McAleese arriving at Newry Court where he was jailed for 15 months.
At an earlier hearing McAleese, a former head boy at his school and originally from Dundalk but with a bail address on the Terryhoogan Road in Craigavon, Mallon, from Laurel Mews in Dromore and McPolin, from Linenfields in Banbridge, pleaded guilty to the two charges they faced - importing herbal cannabis and having the class B drug with intent to supply on 30 March last year.
During his sentencing remarks today (wed), Judge Kerr outlined how a fuel container laden with the drugs arrived at Dublin port in a ferry from Spain but knowing its contents, police kept it under surveillance while McPolin and McAleese drove it over the border to Mallon's family home at Ballynaris Lane in Dromore.
With armed officers acting alongside colleagues from the Paramilitary Crime Task Force, cops swooped and cut their way into the container using angle grinders.
What police uncovered was a mammoth haul "in excess of 50 kilos," one of NI's largest ever cannabis seizure, worth between £500,000 and £1m at street level.
While McPolin and Mallon were arrested on the spot McAleese, who had been in constant contact with his henchmen, was arrested a few days later.
As well as the jail sentences, the judge ordered each defendant to pay a £50 offender levy and in the case of McAleese, he adjourned confiscation proceedings until the New Year.