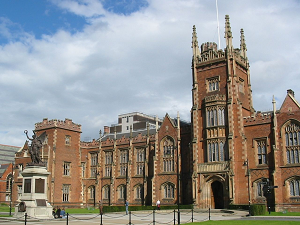 The university says affected students are self-isolating.
By Rebecca Black, PA
Stormont's Executive Office is set to meet with the region's two universities after a number of students tested positive for Covid-19.
It has been reported that 30 students living in Queen's University accommodation tested positive, and around 100 in total have been instructed to self-isolate as a precaution.
In a statement, Queen's said it is working closely with the Public Health Agency and supporting the students who are self-isolating.
"The university has in place robust protocols to minimise the risk of further spread that are being applied," it said, adding that evidence suggests transmission of the virus is taking place in social settings.
First Minister Arlene Foster said she hopes the virus does not spread further in the university, and revealed the Executive Office will meet with Queen's and Ulster University.
"I note that there are some students currently self-isolating in the halls of residence and we do send them our best wishes and hope that it doesn't become wider spread," she said.
"The Executive Office is meeting with both universities tomorrow to discuss some of these issues that are before us.
"There are many scare stories about our universities and our young people but I believe in our young people. I believe on the whole they want to do what is right and I'd appeal to them to abide by the public health guidance and the restrictions that are there."
Meanwhile in Bangor, Co Down, St Comgall's Primary School has taken the decision to close for 14 days after cases of the virus were detected.
It is the first primary school in Northern Ireland to close completely due to Covid-19. Previously, positive cases in schools have seen specific groups self-isolate as a precaution.
Speaking at the Stormont Assembly, Mrs Foster said the Covid-19 enforcement group has widened what it is looking at, after being focused on breaches of restrictions in the Holyland area of south Belfast in recent weeks.
"We are continuing to work with out partners, the PSNI, local government and indeed everyone else involved in enforcement so that we can make sure that as well as having restrictions in place, there is an effective enforcement regime as well," Mrs Foster added.
People from different households in Northern Ireland can no longer mix indoors following the tightening of restrictions by the Executive in response to growing numbers of cases.
"We continue to keep the situation under very close review and are prepared to respond as necessary to flatten the rate of infection of ultimately save lives," Mrs Foster said.
The First Minister also revealed that a live public address she made with deputy First Minister Michelle O'Neill last week was watched by over 230,000 on the BBC alone.
In response to a question from DUP MLA William Humphrey, Mrs Foster said the Executive is concerned about the availability of non-Covid treatments and welcomed the Health Minister Robin Swann's cancer strategy paper.
"It's very important that we look at the short and medium term plan to rebuild and stabilise our cancer, oncology and haematology services because that rebuilding plan to critical to trying to deal with all of those very difficult diagnosis out there, and we very much want to focus on this as well of course as dealing with Covid," she said.
Earlier, it emerged that 220 new cases of Covid-19 have been confirmed in the region by the Department of Health in the last 24-hour reporting period.
It brings the total number of infections to 10,949, including 1,513 notified within the last seven days.
There were no further deaths recorded by the department, leaving the toll at 578.