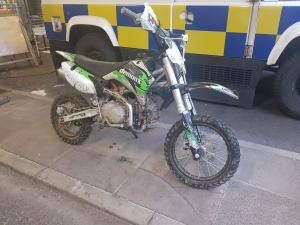 The bike was seized by the PSNI. Pic: PSNI
by Q Radio News
A police officer has been knocked to the ground by a scrambler motorbike in Derry-Londonderry.
Police were in the Nelson Drive area of the city last night - following up on reports of bikes being used in Kilfennan Country Park.
The bike involved in the incident was then seized.
A PSNI spokesperson said: "Thankfully, a number of residents assisted our colleague and he was able to get to his feet to retrieve and seize the bike. The male rider and the other bikes made off.
"We are grateful to the residents who assisted, and would like to thank them for their help. We would also like to echo their sentiments; many of the residents expressed concern that it could easily have been a child or an elderly neighbour knocked down."
Detectives have appealed for information concerning those involved.