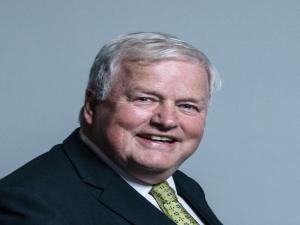 By Georgina Stubbs
A Conservative MP and former British Army officer has relived the horror of a Northern Ireland bombing, describing the atrocity as "probably the worst thing to happen" in his life.
Paramilitary group the Irish National Liberation Army was responsible for one of the largest death tolls of the Troubles in 1982.
They detonated a bomb at the Droppin' Well pub in Ballykelly, Co Londonderry, on December 6 - killing 17 people, including 11 soldiers and six civilians.
Former Colonel Bob Stewart, who was the incident commander at the scene, said his troops from A Company the 1st Battalion the Cheshire Regiment were "blown to bits".
Losing six of his men that night, the member for Beckenham, south east London, told PA how the bar was somewhere young people and off duty soldiers often went to.
Arriving at the scene shortly after the explosion at around 11pm, he said: "I held a girl, who I think was a Catholic, as she died. She had lost both legs and an arm - she was 18."
Describing the aftermath and dealing with the bodies in the wake of the blast, Mr Stewart, 70, said some of them "were just like joints of meat".
He was speaking ahead of the anniversary of Operation Banner - with August 14 marking the date British troops deployed onto the streets of Northern Ireland some five decades ago.
The military campaign, which ran until July 2007, was in response to growing sectarian unrest.
Between the 1970s, 80s and 90s, Mr Stewart undertook seven tours of Northern Ireland - asked if there is a moment which has stuck with him the most, he said it was the Ballykelly bombing.
"I do not have post traumatic stress disorder, but it has certainly had a traumatic effect on me in so far as it is probably the worst thing that has happened to me in my life," he added.
Noting how during day-to-day life you were conscious and slightly on edge, he said that for the vast majority of the time being in Northern Ireland was like living anywhere else in the UK - "except that it could turn nasty, very quickly".
With an evident affection for Northern Ireland, Mr Stewart said the country is a wonderful place which is full of charming, decent people on both sides.
"It is just a very small percentage of total bastards," he added. "Like most soldiers who served on Op Banner you have a considerable respect and liking for the vast majority of people there."
Mr Stewart also highlighted his respect for the Royal Ulster Constabulary and Ulster Defence Regiment, who he said were "brave beyond" and faced very real threats daily.
"I remember, I think it was in Maghera, that we heard a huge bang and a bomb had gone off, and together with a few soldiers we rushed to where it was - and it was a car," he said.
"In the front of the car was a father and a daughter - the daughter was about 10 or 11. The father was an off-duty soldier of the Ulster Defence Regiment.
"They looked perfectly normal, they were lying back in the seat except they didn't have a bottom half of their body. These are the people that are heroes."
He said that when he and his soldiers saw the carnage they were sick and cried, with Mr Stewart "horrified" by what he had seen.
But, he conceded that it was a different time and that there were things they did then that "would be totally unacceptable now".
Recalling one instance, he said: "When I was an intelligence officer we would decide we'd search a street.
"We'd get people - the whole street up at 5.30 in the morning - ask them to gather in the sitting room and then rip their house apart looking for things.
"Then we would try and put it back together, and ask them to sign a bit of paper to say we hadn't done any damage. I can't believe we did that now, but we did."
But, he stressed how they were always "particularly careful" if they opened fire to avoid shooting near women and children.
"In my tours, I never saw anyone that went out there with a grudge or wanting to kill someone. Quite the reverse, the decision to open fire is the most difficult one you face," he added.