Rob Herring, Ulster hooker, who visited the project area with Denny Elliott, Head of Northern Ireland Self Help Africa
By Q Radio News
Overseas development charity Self Help Africa has thanked the public in Northern Ireland for supporting their recent Give2Grow appeal, which raised a total of £268,939.
This includes £129,530 match funding from the UK government to support rural poor communities in Africa.
The amount raised over a three month period between February and May is to be invested by Self Help Africa to support 1,000 farming families
affected by the devastating reign of warlord Joseph Kony's Lord's Resistance Army.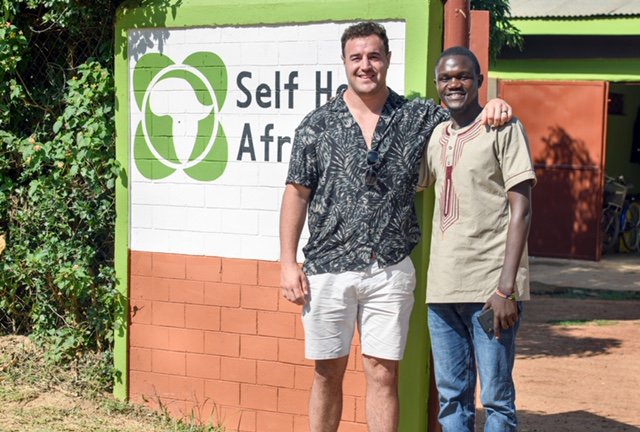 (Rob Herring in Uganda as part of the Self Help Africa project)
NI head of operations Denny Elliott believes Self Help Africa, who merged with War on Want NI last year, raised much of the funds through events and charity shop based activities in the North. Denny
Elliott thanked the community in Northern Ireland for their generous support, and said that the sum will have a life-changing impact on the lives of local people in Teso.
"On behalf of everyone at Self Help Africa, and the people of Teso, I would like to thank the public for their incredible support of our Give2Grow appeal" she said.
"I was delighted to bring Ulster rugby star Rob Herring out to Uganda to visit this area, and meet some of the communities who will benefit from this project. The response to Give2Grow within our 13 retail stores here in the North, and the community in general, has been really encouraging" he said.
This amount will change the lives of 1,000 farming families in an area of Uganda where War on Want NI had been working for many years. People in Teso are working hard to get back on their feet after a generation of conflict.
Give2Grow donations will provide households with better quality seed and cuttings, along with small livestock – enabling farmers in Teso to grow more and earn more from their land. Families will also receive training in farm techniques and business skills so they can become completely independent and self-sufficient in
the future.
To find out more about the work of Self Help Africa, visit: www.selfhelpafrica.org