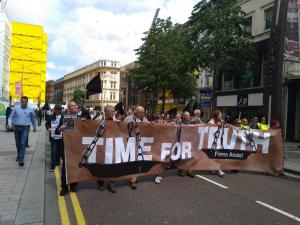 By Q Radio news
Bereaved relatives have organised a Time for Truth day of action to protest against the UK Government's plan to ban future legacy prosecutions.
The proposed government amnesty would prevent prosecutions for Northern Ireland conflict-related offences.
Protests were organised at several venues north and south of the border.
Supporters will gather outside the High Court in Belfast as well as in Derry/Londonderry and Dublin.
The organisers say the proposed British Government's amnesty would prevent prosecutions for conflict-related offences and close down present and future police and Police Ombudsman investigations, civil actions and legacy inquests.
'Time for Truth' rallies have taken place across Ireland to call on the UK government to drop it's proposed ban on future legacy prosecutions. The largest rally in (NI) was outside the Courts of Justice in Belfast. pic.twitter.com/T4MCgi5ZCY

— Q Radio News (@qnewsdesk) September 25, 2021
Bereaved relatives have organised a Time for Truth day of action to protest against the UK Government's plan to ban future legacy prosecutions. https://t.co/OZNqICqUNQ

— Q Radio News (@qnewsdesk) September 25, 2021
Spokesperson for the Time for Truth Campaign, Ciarán MacAirt said:
"The families of the Time for Truth Campaign are mobilizing against Britain's insidious and perfidious proposals which would have embarrassed Chile's Pinochet dictatorship."