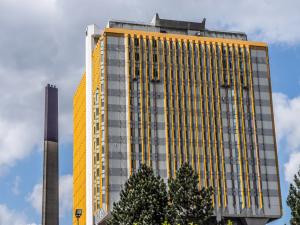 By Peter Moor and PA.
The Nightingale Hospital is to be stood down. The facility was set up in the City Hospital Tower Block to deal with a surge in COVID 19 patients.
Northern Ireland's chief medical officer Dr Michael McBride said the Nightingale hospital in Belfast to care for extra Covid-19 cases was to be "de-escalated".
Dr Michael McBride added that reducing the escalation level will ensure the health and social care system is able to respond and redeploy to non-Covid-19 cases.
Robin Swann opening the Nightingale Hospital
He said doctors would be redeployed to deal with urgent surgeries and treatments.
Dr McBride added: "We have to undertake that gradually and cautiously."
Michael McBride says urgent services paused during the COVID-19 surge must be started again.
It follows news that the Nightingale Hospital will be stood down.
He urges that this start up must undertaken gradually and cautiously. pic.twitter.com/ExUR9wuxqJ

— Q Radio News (@qnewsdesk) May 13, 2020
The announcement comes as jist 2 new deaths from COVID-19 have been announced in Northern Ireland by the Department of Health.
1 of these deaths have occured since yesterday, with the other having occured before 12th May,
In Northern Ireland, 4,253 people have now tested positive for COVID-19. This number includes those who have received positive tests from medical settings, but also from drive thru testing centres in Belfast, Derry/Londonderry and Craigavon.
BREAKING:
📍 2 new deaths from COVID-19 have been announced in NI @healthdpt
📍1 of these have happened since yesterday.
📍Total of 449 deaths from the virus in NI
📍4,253 people have tested positive for the virus.
📍110 NI care homes with positive/suspected COVID-19 outbreaks pic.twitter.com/A14pJiSOgG

— Q Radio News (@qnewsdesk) May 13, 2020
Out of the 112 intensive care unit beds available in Northern Ireland, 24 of these are occupied with patients who have or are suspected to have COVID-19.
With 43 of the 112 ICU beds being occupied by non COVID-19 patients, there are 45 available intensive care beds across the province,
Robin Swann and Michael McBride who spoke at today's press conference
Health Minister Robin Swann said "intensive" support was being provided for care homes dealing with the pandemic as he briefed reporters at Stormont.
Mr Swann detailed three areas involving protecting care home residents:
- Significant expansion of testing for care home residents and staff
- Intensive support for care homes, including strengthening by trusts of hospital-to-community outreach teams
- Investment and reform in social care.
He said: "The social care sector has been struggling for years and as a whole is not fit for purpose. The structural reasons for this are well documented and are no fault of staff.
"It is beyond doubt that the sector needs much greater resilience. This is essential given the threat that will be posed by Covid-19 in the months and potentially years ahead. I am therefore proposing to move ahead with reform and investment plans, subject to the necessary financial support being provided by the Executive."
Robin Swann says a quarter of care home residents have been tested already.
The announcement comes as Robin Swann promises more testing in care homes across Northern Ireland.
75 care homes have confirmed outbreaks in Northern Ireland so far.
35 others have suspected outbreaks. pic.twitter.com/bPJrrE6maT

— Q Radio News (@qnewsdesk) May 13, 2020
Mr Swann said 3,346 residents in care homes had been tested and additional support had been provided to staff.
A total of 26 care homes have closed down their outbreaks.
The Northern Ireland Ambulance Service has this week started to provide a mobile testing service for care homes.
Up to 40 nurses from the health system are being deployed to support testing in care homes.
Robin Swann said the Nightingale hospital at the City Hospital's tower block had once treated 30 people in intensive care beds:
Robin Swann says at one point there were over 30 patients in intensive care unit beds in the Nightingale Hospital at the City Hospital Tower Block.
He adds it is being stood down and will be ready for any possible second wave. pic.twitter.com/A6jFjsVsra

— Q Radio News (@qnewsdesk) May 13, 2020
He said: "It was one of the key strategic tools for tackling Covid-19.
"We are not doing away with it, it will be there if we have need for it."
Medics from around Northern Ireland were brought in to staff it.
Mr Swann added: "It is a testimony to the work that they did that we are able to bring it down."