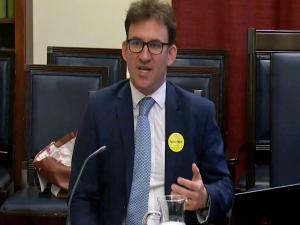 Justin Edwards
By David Young, PA
The head of Northern Ireland's exams body has insisted there were no leadership failings in the calculated grades controversy.
Justin Edwards, the chief executive of the Council for the Curriculum, Examinations and Assessment (CCEA), was responding to a call to consider his position from a member of Stormont's education committee.
There was an outcry from many schools, pupils and parents in Northern Ireland when a statistical algorithm used to standardise results reduced more than a third of A-level grades predicted by teachers.
After days of controversy, Education Minister Peter Weir scrapped the standardisation model and announced that pupils would be able to receive the grades predicted by teachers, even though it saw results averages soar.
Plans to apply standardisation to GCSE results were also binned.
The situation in Northern Ireland was similar to those that played out across the UK in August, as education authorities in England, Scotland and Wales also all ditched standardisation in favour of teacher assessments.
CCEA developed the standardisation algorithm that was used for the majority of results issued to Northern Ireland students after exams were cancelled due to the coronavirus pandemic.
Mr Edwards, who was giving evidence to the committee on Wednesday, insisted the organisation had followed the original direction from Mr Weir to implement its standardisation system "to the letter".
He said when the minister announced a move away from that process, CCEA was able to issue revised grades to students within five days.
"In terms of the leadership of CCEA, we were asked to give advice on the range of options that were available, we gave that advice, we then received instruction, we implemented that," said Mr Edwards.
"I believe that the organisation that is here did that to the best of its ability, given the time that it had to do it in, given the situation that we all faced in regards to the pandemic. I believe that the work that was carried out was extensive in implementing that and therefore the organisation did not fail in terms of leadership in the work activity."
Mr Edwards was responding to questioning from SDLP committee member Daniel McCrossan who had asked whether a change in leadership was required to restore public confidence in CCEA.
The MLA told Mr Edwards: "I think you'll find thousands of teachers and young people and families who disagree completely with your analysis and would say very clearly that the leadership of CCEA failed absolutely and completely on this occasion."
Trevor Carson, who is chairman of CCEA's council, defended the chief executive's performance.
"I am content that Justin has performed as well as he possibly could and I am in no doubt that a change in leadership wouldn't have provided a different outcome," he said.
Mr Edwards was before the committee to provide an update on how CCEA plans to run exams in 2021.
He said a range of contingencies were being developed to ensure grades could be issued if there was another partial or complete lockdown.
He made clear that a standardisation algorithm would not be used next year.
"We recognise that calculated grades using statistical standardisation is not an approach that we should in any way introduce in the 2021 proposals and we have removed all that from these proposals," he said.
The CCEA boss explained that the number of assessment units would be reduced in some GCSE subjects to reflect the need for pupils to catch up on parts of the curriculum they have already missed as result of March's school closures.
"I think we have to recognise coming out of the 20th of March closure that schools are asking for reduced burden so that they can spend time with learners catching-up addressing knowledge, skills and understanding and we have to recognise that," he said.
Mr Edwards said CCEA was reluctant to reduce the learning load in Maths and English, given their central importance in pupils' journeys through the education system.