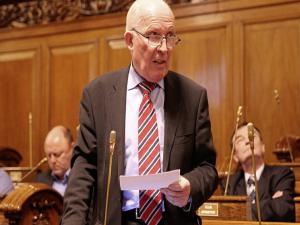 By Q Radio News
A Ulster Unionist Councillor has received partial suspension from his duties following a judgement by the local government watchdog.
Alderman Jim Rodgers has been handed a three-month partial suspension.
The decision means he is suspended from membership of the East Belfast Area Working Group and the Strategic Policy and Resources Committee.
The Northern Ireland Local Government Commissioner found Mr Rodgers had breached the local government code of conduct.
It's after he didn't register his interest in Belmont Bowling Club and Ashfield Girls' High School on a number of occassions.
In a statement - the NI Local Governement Commissioner said:
Announcing her decision, the Commissioner found that Alderman Rodgers has significant, non-pecuniary interests in both organisations, and that they ought to have been registered by him. She was satisfied that in failing to do so he had breached paragraphs 5.2 and 5.3.
She also found that the failures to declare his interests at a number of meetings, as well as a failure to leave the room when the interests were being discussed, amounted to 'substantial breaches'.
At the Hearing held on 5 December to decide on sanction, the Commissioner imposed a partial suspension on Alderman Rodgers, preventing him from membership of the East Belfast Area Working Group, and the council's Strategic Policy and Resources Committee for a period of 3 months.
The Commissioner commented that but for his exemplary record of public service, she would have imposed a full suspension.
The partial suspension has no impact on Alderman Rogers' other roles within the council.