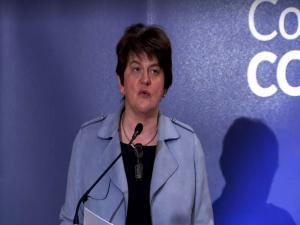 By PA Reporter and Q Radio News Team
Northern Ireland's leaders have defended a decision to exclude target dates from the region's road map out of the coronavirus lockdown.
First Minister Arlene Foster and Deputy First Minister Michelle O'Neill highlighted their determination to be led by the science, not the calendar, as they published their five phase recovery blueprint.
Business owners are among those calling for a timetable, claiming the lack of dates hinders their ability to plan for reopening.
Mrs Foster said the reproduction number (R) of Covid-19 - the number of people an infected person passes the disease to - was the key factor in when Northern Ireland could move from one phase to another.
Mrs Foster said that other jurisdictions' use of dates was so "heavily caveated" it had to be asked if it would be any use.
"When they get to that date they may not be able to move forward and people will be disappointed.
"We took the decision that we wanted to be flexible and if we can move in a faster way we will do that.
"It is a clearer way to do that.
"If we push the (R) number down, then we will be moving in that direction."
"Every time we relax the regulations we will have to see what impact that it has had," is the message from First Minister Arlene Foster. She says the Executive didn't want to include dates within their recovery plan in order to be "flexible" with restrictions in the future. pic.twitter.com/sfjxkkwKvl

— Q Radio News (@qnewsdesk) May 12, 2020
When will restrictions be reviewed next?
The Deputy First Minister announced that the Executive will review the decision to review lockdown restrictions by May 28th.
Michelle O'Neill said a fine balance had to be struck in deciding how to exit lockdown.
It means Northern Ireland will have to wait a further two weeks to see if the province will enter 'Stage One' of the recovery road map.
"We believe that the way we are taking baby steps to walk out of this is helping us avoid a second wave as much as we can around it."
The next review of restrictions will by the 28th of May, Deputy First Minister Michelle O'Neill has announced. Then the Executive will determine if the province can enter Step One of the recovery roadmap. pic.twitter.com/EbWSrbIrtu

— Q Radio News (@qnewsdesk) May 12, 2020
Northern Ireland's R number is currently .79
COVID-19 deaths today
The Executive decision to renew restrictions in two weeks comes after nine new deaths from COVID-19 has been announced in Northern Ireland.
Only one of these deaths has occurred since yesterday.
447 people have now died from the virus in Northern Ireland.
UPDATE on coronavirus (#COVID19) in NI.https://t.co/YN16dmGzhv pic.twitter.com/vpOiaWvMuU

— Department of Health (@healthdpt) May 12, 2020
Latest testing figures show that 4,193 people have tested positive for the virus here.
There are currently 75 care homes with confirmed active COVID-19 outbreaks, and 37 with suspected outbreaks.
The full "Pathway to recovery" plan can be viewed below.