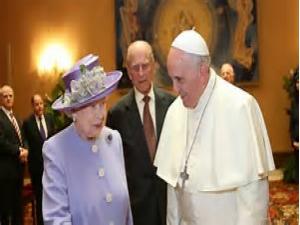 The Queen has a private audience with Pope Francis at the Vatican in 2014
By Bob Huggins
A former church leader who oversaw the decommissioning of paramilitaries here says a joint visit to Northern Ireland by the Pope and the Queen will be of global significance.
The Reverend Harold Good was speaking after Q Radio exclusively revealed this morning that plans for such a visit are being worked on.
Religious leaders have welcomed the news.
Pope Francis will be attending the 2018 World Meeting of Families in the Republic next summer before travelling North of the Border.
Banbridge parish priest, Canon Liam Stevenson, thinks it's a point of healing for a previously divided society...
It will be a deeply symbolic and powerful moment - The Pope and the Queen appearing side by side before a divided society.
Last year the then Deputy First Minister Martin McGuinness revealed that the 80 year old Pontiff WOULD cross the border.
At the time - the then First Minister, Arlene Foster, said she would meet him.
Q Radio sources have revealed that plans for the joint visit are being worked on.
The location is being kept under wraps - it may be Armagh or Belfast- but it certainly will be in Northern Ireland.
Meanwhile, The Archbishop of Armagh, the Most Reverend Richard Clarke, says a joint visit by the Pope and the Queen to Northern Ireland would be "remarkable and wonderful".
The head of the Anglican communion in Ireland was responding to a Q Radio news report that plans are being drawn up for such a visit next August.