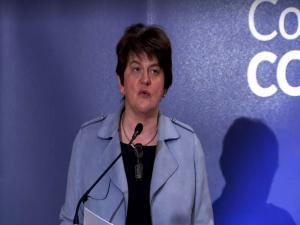 By PA Reporter and Q Radio News
Stormont's leaders have announced a series of proposed lockdown relaxations in Northern Ireland.
The measures, which have been earmarked to come into effect from June 8, include small marriages in an outdoor setting with guests limited to 10.
Outdoor sports courts can reopen and hotels will be allowed to take some bookings, though no date has been set for their reopening.
The training of horses will be permitted and dog grooming businesses can reopen.
Some non-food outdoor retail outlets will reopen, such as businesses selling cars and agricultural machinery.
Some indoor non-food businesses with low footfall such as electrical stores, mobile phone shops and furniture stores can also reopen, as long as they have direct outdoor access.
The steps will only be introduced if the scientific evidence indicates that the virus continues to be suppressed.
Arlene Foster says the decision on meeting people indoors has been deferred till later in June.
She says people can still meet outside, as per previously announced rules. pic.twitter.com/7YaTCS6Vy2

— Q Radio News (@qnewsdesk) May 28, 2020
The (R) value
First Minister Arlene Foster said the measures would come into effect "provided that the R value does not increase above one".
Deputy First Minister Michelle O'Neill said the R number - the number of people an infected person infects - was currently just below one in the region.
She said there would be no rapid easing of the restrictions.
"For me it's about steady as you go," she said.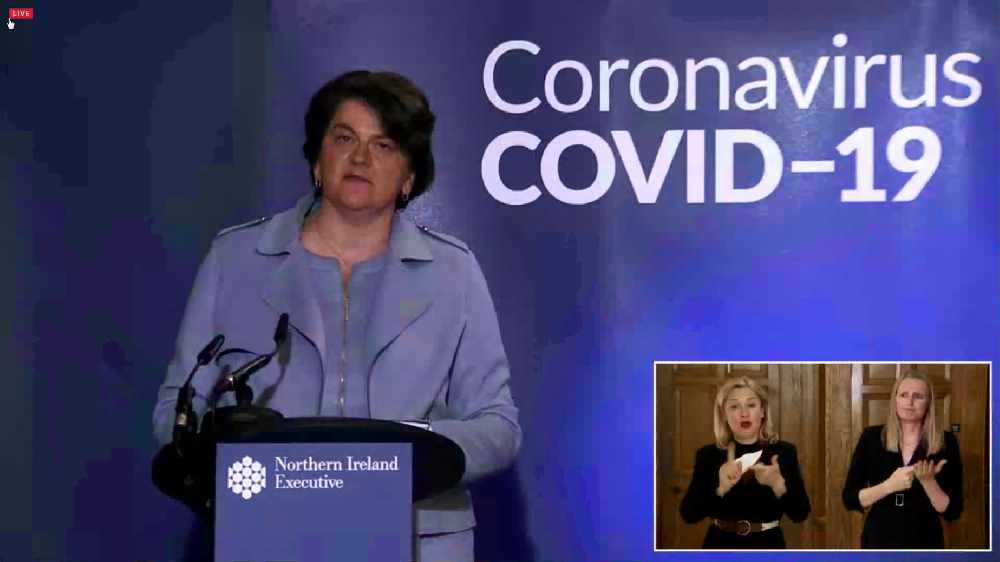 First Minister Arlene Foster speaking at today's daily conference
One step closer
Deputy First Minister Michelle O'Neill sounded a note of caution about exiting lockdown, saying just an estimated 5% of the population of Northern Ireland have been exposed to the virus.
She described today's announcement as building "momentum" towards looking to the future.
"We've always said that actually coming out of this is going to be more difficult than going into it," she said.
The ministers also defended their decision not to allow indoor gatherings of people yet.
Science suggests the virus spreads more easily indoors than outdoors.
Supermarket sales have set a 26-year record recently, while takeaway business is up 250%, the ministers said.
They also said 99 health and social care workers had been redeployed as contact tracers where coronavirus was detected.
Over the seven days to May 25, 212 cases were followed up, about 30 per day.
Ms O'Neill said it took two or three weeks to properly monitor how the disease has spread.
Deputy First Minister Michelle O'Neill says the Executive is trying hard to get the balance between following the science and the wider social-economic implications.

"We're in for very challenging times," she says. pic.twitter.com/yHgI4g6SsZ

— Q Radio News (@qnewsdesk) May 28, 2020
Death's today
Two new deaths linked to COVID-19 have been announced by the Department of Health.
Both of these deaths have occurred since yesterday.
The Department of Health data shows that 516 people have now died as a result of COVID-19.