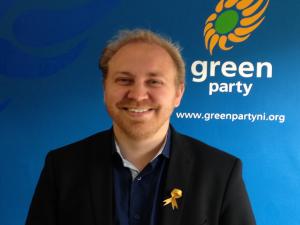 Q Newsdesk
The Green party's Stephen Agnew has announced he is quitting politics.
The 39 year old former party leader is stepping aside after eight years as an MLA.
He's to take up a new role in the renewables industry next month and a new MLA for North Down will be announced by the party in the coming weeks.
The party's deputy leader Mal O'Hara has been outlining some of Mr. Agnew's political achievements:
🎥 The Green Party's Steven Agnew has announced he's bowing out of politics.

The 39-year-old former party leader is stepping down after eight years as an MLA.

Party Deputy Leader @oharamal is paying tribute.... pic.twitter.com/gG0NIP9lMY

— Q Radio News (@qnewsdesk) September 12, 2019

Steven Agnew said:
"I'm looking forward to new challenges ahead and I'll leave Parliament Buildings with great memories and in the knowledge that I've made a positive difference.

"The party will announce a new MLA for North Down in the coming weeks. I know that my successor will be a committed public servant and do everything possible to take on the political and environmental challenges ahead."

Green Party NI Leader Clare Bailey MLA added:

"Steven has served the people of North Down well over the past 8 years. When Steven was our sole MLA he delivered the Children's Services Co-operation Act - his record speaks for itself and we wish him every success in the future."