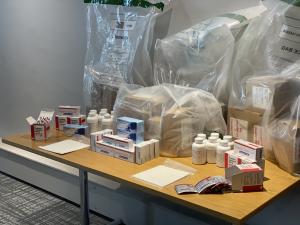 by Q Radio News
Police have intercepted around 140,000 illegal and unlicensed tablets being sent through the postal system, including in Northern Ireland.
It's part of a global operation called 'Operation Pangea XIII' in partnership with INTERPOL, which included the seizure of items like human hormone treatments, diazepam & pregabalin and the stimulant modafinil.
The operation took place in a week of action between 3-10 March 2020 and involved many countries.
Multiple packages were intercepted during that period.
The INTERPOL coordinated actions aimed to disrupt the illicit online supply of medicines as well as raising awareness of the significant health risks associated with buying medicines from illegal websites and social media platforms.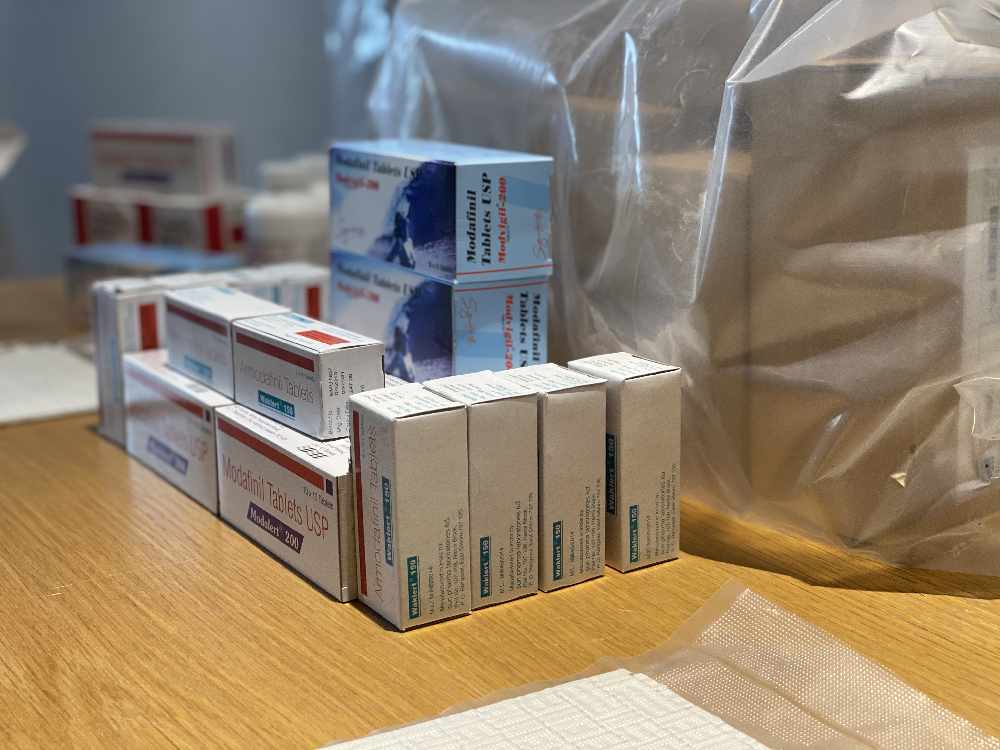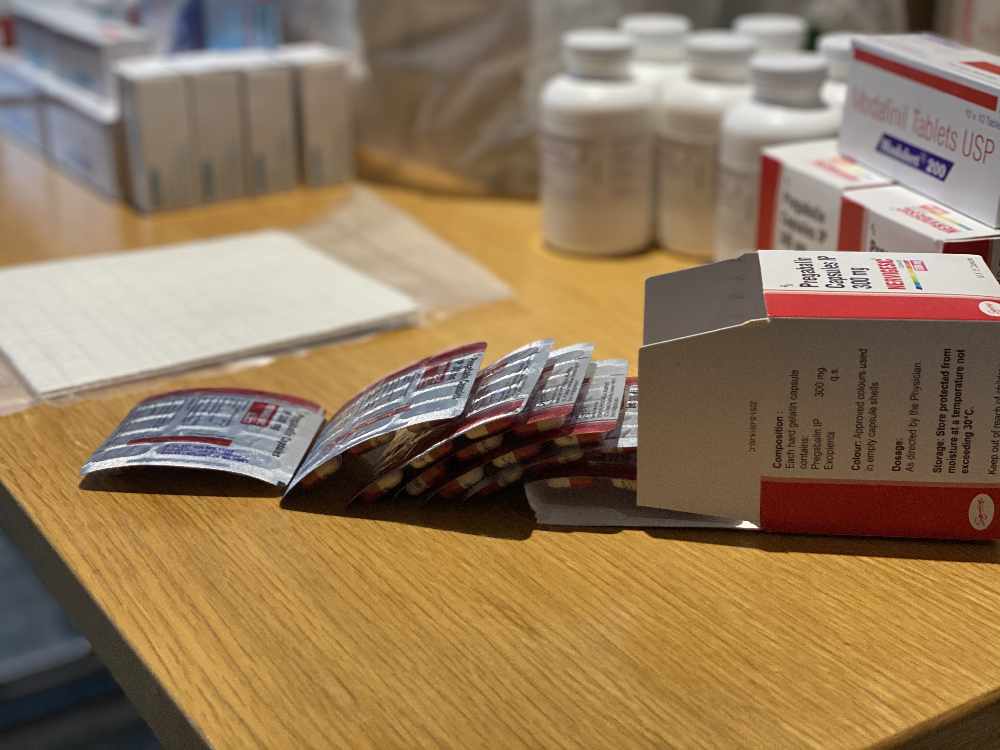 (Unlicensed tablets uncovered during the operation in Northern Ireland).
Naomi Long, Justice Minister and Chair of the Organised Crime Task Force, said, "Drugs destroy people's lives. This is why the collective work of the OCTF partners is vitally important.
"It is encouraging that the supply of illicit medicines has been disrupted and that so many drugs have been removed from circulation in Northern Ireland.
"We're using the outcomes of Operation Pangea to highlight, not only the benefits of working together locally and globally, but to reinforce messages to the public about the dangers to health of taking dangerous medications bought online."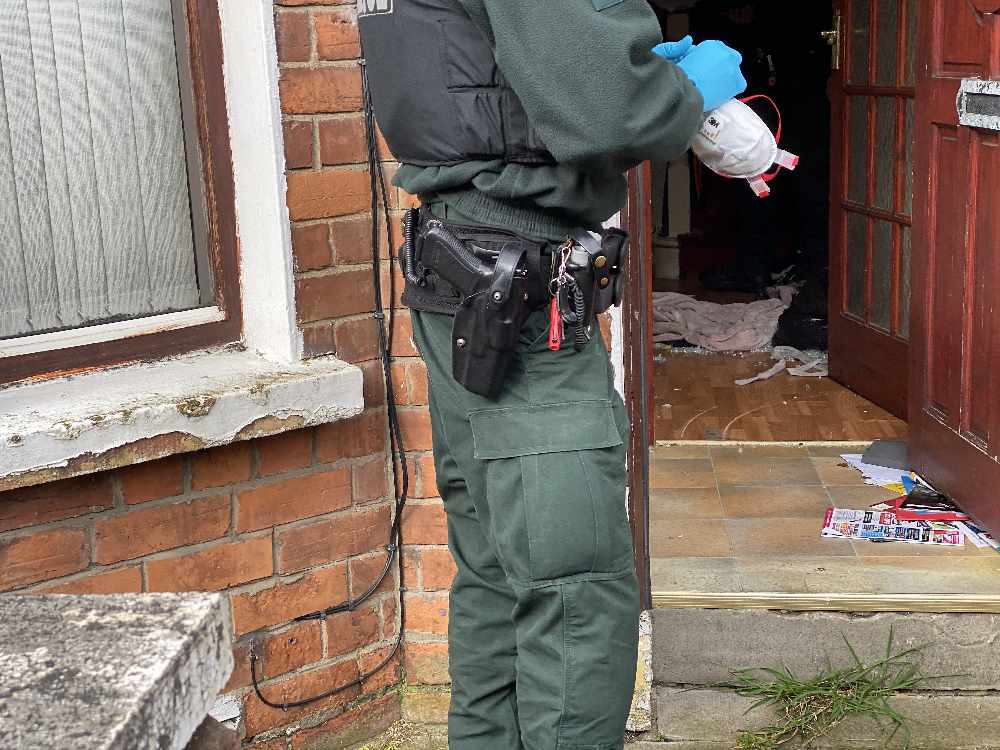 (PSNI officer during the drugs raid in Northern Ireland)
Speaking about the operation, Detective Superintendent Rachel Shields, Chair of the OCTF Drug Sub Group said, "On a daily basis, officers from the Police Service of Northern Ireland work to restrict the supply of counterfeit and unlawful prescription drugs through seizures of drugs and arresting those responsible for supplying them.
"Operation Pangea is a really excellent example of statutory partners working together at a local, national and international level to achieve a shared common goal of reducing the harm caused by drugs within our communities.
"We do this all year round, and will continue to do so, however this week long operation highlights what we achieve when stakeholders work collaboratively.
"The misuse of prescription drugs and the deaths that result from it cannot be solved by policing alone, however police will continue to play their part by disrupting the supply of harmful drugs by making seizures and arresting those involved, as well as continuing to proactively investigate the Organised Crime Groups who supply them in order to fund their criminal activities."
Operation Pangea XIII took place in a week of action between 3-10 March 2020 in many countries and was co-ordinated by @INTERPOL_HQ

Approx 140,000 illegal and unlicensed tablets were seized, including human hormone treatments, diazepam, pregabalin and the stimulant modafinil. pic.twitter.com/lVrV3S8Ihk

— Q Radio News (@qnewsdesk) March 19, 2020
Health Minister Robin Swann said: "Now more than ever people may be looking to the internet to source medicines and I would urge the public not to be misled by professional looking websites offering medicines without a prescription.
"Taking short cuts and using these medicines could expose you to a dangerous counterfeit or substandard medicine, people are often unaware of the potentially fatal consequences of taking these unprescribed medicines and drugs.
"This problem is not something we can tackle in isolation and it is through inter-agency collaboration with our colleagues in Police, Border Force and Department of Justice that we can tackle the problem of illegal medicines entering our communities.
"Operation Pangea has shown that the illicit medicines recovered were destined for addresses throughout Northern Ireland leaving none of our communities immune from the dangers presented by drugs like these."
John-Jo Oldham, Assistant Director Border Force for Northern Ireland said: "Border Force is alive to the threat posed by the importation of unlicensed medicines and works with partners like PSNI to tackle the issue. Intensification exercises like Op Pangea help to combat this illicit trade."
Key partner agencies across Northern Ireland, working together under the auspices of the Organised Crime Task Force (OCTF) included PSNI, Border Force and Department of Health medicines' regulators.
Their coordinated activities resulted in the seizure of multiple packages destined for or recovered from addresses throughout Northern Ireland.