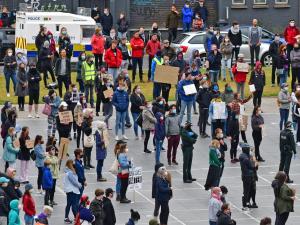 By Brett Campbell
A Belfast legal firm is challenging the PSNI after officers issued a 'significant' number of fines at anti-racism demonstrations yesterday.
Phoenix law has also offered to support organisers of the Black Lives Matter demonstrations in Belfast and Derry/Londonderry who are now facing prosecution.
Solicitor Ciaran Moynagh has told Q Radio people still have the right to stand against injustice.
"The world has changed yet we believe that people retain the right to demonstrate against inequality and racism," he added.
"These are serious issues which impact on human health also - yesterday was an example of how demonstrations can be held safely."
Justice minister Naomi Long has defended the police who were "put between a rock and a hard place" and said the protests should not have gone ahead.
Some cases will be reported to the Public Prosecution Service, while a "significant number" of community resolution notices (CRNS) and fines were issued to people attending rallies, police said.
A socially distanced Black Lives Matter demo is underway in Belfast in response to the death of George Floyd in police custody in the USA

PSNI officers are present in Custom House Square warning protesters about coronavirus regulations and are issuing notices pic.twitter.com/w8nxbAaenM

— Q Radio News (@qnewsdesk) June 6, 2020
An estimated 500 attended Black Lives Matter demonstrations in Belfast and Londonderry, sparked by the death of black man George Floyd in police custody in the US.
The PSNI and senior politicians had urged people not to take part in public protests, citing the coronavirus regulations in Northern Ireland which currently ban the gathering of more than six people.
Officers also conducted checks on roads and at bus and train stations ahead of the protests to remind those taking part of the social distancing rules.
Police say organisers of Belfast & Derry/Londonderry Black Lives Matter demos "will be reported to Public Prosecution Service with a view to prosecution. We will also conduct follow up enquiries to identify others who may have committed offences"

📸 Alan Lewis
PSNI statement: pic.twitter.com/s1o0uxGRCL

— Q Radio News (@qnewsdesk) June 6, 2020
Amnesty International expressed concern at the police response.
Patrick Corrigan, Northern Ireland programme director, said the rally organisers went to "great lengths" to ensure social distancing in light of the current public health crisis.
"The PSNI must respect the rights of those peacefully protesting and ensure that the voices of those demanding action on tackling racial injustice are allowed to be heard," he said.
However, Ms Long described the actions of police as "proportionate" adding they had found themselves in an "awkward situation".
We are aware of many fines being imposed at #BLMBELFAST2020. We question the lawfulness of these fines. Keep your paperwork & contact us urgently for free advice. 02890328383 #BlackLivesMattters

— Phoenix Law Belfast (@PhoenixLawHR) June 6, 2020