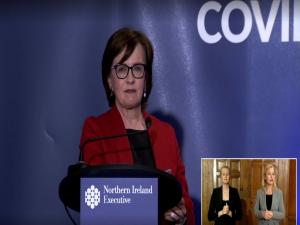 By Q Radio News and PA.
Economy Minister Diane Dodds has said she will present a proposed economic recovery plan for Northern Ireland to fellow executive ministers next week.
"I am working to develop the executive's roadmap to a strong competitive and regionally balanced economy," she told the daily Covid-19 briefing.
"I will bring a paper to the executive next week which will outline on how we put the pathway to recovery into action."
Diane Dodds, the Economy Minister says she will bring a paper to the Executive next week detailing how to get the economy moving again. pic.twitter.com/7L3LJqkMrX

— Q Radio News (@qnewsdesk) May 15, 2020
Mrs Dodds announced that the executive's £25,000 grant scheme for retail, hospitality, tourism and leisure industry businesses would be expanded to include those business who occupy rental properties.
Business owners in this category should visit nibusinessinfo from 9pm, and before midnight on Wednesday 20 May, to register.
The Minister said: "I have been conscious that businesses in the retail, hospitality tourism and leisure sectors, which are such an important part of our economy, and which occupy rental properties as sole tenants, have not been able to access the grant support.
"I am pleased to confirm that, from 9pm tonight, they will be able to do so via an online form and registration process. So far my Department has issued around 1,600 payments under the £25,000 grant scheme, totalling approximately £40million and officials continue to process applications every day."
The Minister added: "We also continue to issue payments to small businesses under the £10,000 support scheme. To date almost 21,000 payments, totalling around £210million, have been issued to businesses in need.
"Both of these schemes must close for new applications on Wednesday 20 May. Officials will process all applications received by that date and payments will continue until all eligible businesses have received them.
"I strongly encourage any business owner who believes they are eligible to engage with the process as soon as possible."
The minister also said an already announced £40 million fund to support microbusiness in Northern Ireland would open next week to applications.
Diane Dodds says over a quarter of billion pounds has been paid out in support funds to over 22,500 businesses in Northern Ireland.
She says more support will become available in a £40 Million hardship scheme for small businesses.
The scheme will open in the next 7 days. pic.twitter.com/DJJIJs7R4J

— Q Radio News (@qnewsdesk) May 15, 2020