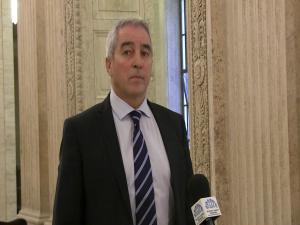 west Belfast MLA, Pat Sheehan - PA photo
by Q Radio News and Rebecca Black, PA
A call has been made for a permanent memorial to remember all those who have died with Covid-19.
Sinn Fein's Pat Sheehan put the proposal to First Minister Arlene Foster and Deputy First Minister Michelle O'Neill as they appeared before a Stormont committee.
The number of people who have died after testing positive for coronavirus in Northern Ireland, according to Department of Health figures, had risen to 494 on Wednesday.
The West Belfast MLA described the impact which the virus has had on funerals, wakes and the mourning process with social distancing rules in place.
He referred to a friend of his who had died, from a "relatively big family", yet only ten could attend the graveside.
"Has there been any thought given to a permanent memorial to all these people who have died because given the scale of the numbers of people who are dying, often you're not hearing, because we are not socialising in the same way that we were, you're maybe not hearing of someone who you knew having died," he put to the Executive committee.
"They don't get the same level of support that they would under normal circumstances.
"I would ask the Executive to give some thought to a permanent memorial to the people who have died so that they just don't end up as statistics somewhere, so there is recognition given to their faces, as such."
(West Belfast MLA Pat Sheehan addressing Stormont's executive committee)
Ms O'Neill responded saying she thought that was a "very good suggestion".
"That's certainly something we should take away and look at because I think you're highlighting the real human tragedy of all of this, how we traditionally bury our dead and our normal, natural instinct to want to be surrounded by your family and your friends, people coming to pay their respects - everyone has been denied that right now," she said.
"I think there is an aftermath in all of that for people in terms of their emotional wellbeing.
"I think the idea of being able to mark this period in our existence is something we could work on together because this is stuff that people of generations will talk about in years to come.
"A lovely memorial type thing would be a really positive thing for us to do when we get to the other side of this."
At executive committee @PatSheehanMLA raises question of a permanent memorial for those who have passed away as a result of covid-19.
DFM @moneillsf welcomes the idea and says it looks at the pandemic in a "human way."

— Q Radio News (@qnewsdesk) May 20, 2020
Mrs Foster agreed, adding a discussion should be had about how to mark the pandemic.
"It's a very difficult time for people who are grieving because they can't do the traditional things that we do here to grieve," she said.
"I think we need to be very alert to that, people haven't been able to grieve properly.
"We will have a large job of work to do in dealing with the aftermath of Covid-19 as well as trying to deal with - as we currently are - the response to Covid-19."
First Minister @DUPleader says a discussion needs to be had on how society can remember people who died as a result of covid-19 in NI.
She says people have been unable to grieve properly due to the virus and realises it will take its toll on people." pic.twitter.com/0d3Gz9lCgb

— Q Radio News (@qnewsdesk) May 20, 2020