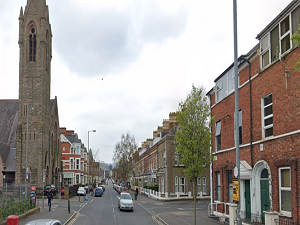 University Street, Belfast
Alan Erwin
A man accused of carrying out a stabbing at his south Belfast flat claims he was attacked by intruders as he cooked sausages, a court heard today.

Gerard Hegney allegedly inflicted a knife wound to the neck of another man in his twenties at the property on University Street in the early hours of Saturday morning.

Hegney, 20, appeared before Belfast Magistrates' Court charged with causing grievous bodily harm with intent.

He also faces a further count of possessing an offensive weapon, namely a kitchen knife, with intent to commit an indictable offence.

Entering the dock in handcuffs, when asked if he understood the charges Hegney replied: "No."

A detective told the court the alleged victim was found lying against a wall at the block of flats.

Police called to the scene discovered blood on the living room floor and were told the man had been stabbed in the neck.

Opposing bail, the detective claimed Hegney may attempt to interfere with witnesses.

Defence counsel Sean O'Hare submitted that the injured party and an associate had entered his client's home uninvited.

"He made the case that he was in the property when two men came into the premises and attacked him," the barrister said.

"They offered some excuse about being concerned for his well-being so they had decided to come in.

"He was making sausages, so obviously not in a state of any concern to anybody."

Mr O'Hare argued that only one stab wound occurred during an ensuing altercation.

"This isn't a case of an attack on a number of people with a number of strikes," he added.

"The defendant can be seen on CCTV footage leaving the property being chased by these men."

Hegney's parents were both in court for the hearing.

But District Judge Fiona Bagnall refused to let him return to live at the flat he shares with his father while detectives seek a statement from a potential eye-witness.

Instead, she ruled the accused must remain in custody until another address approved by police is located.

If released on bail he will be excluded from the University Street area, the judge ordered.

Hegney is due to appear back in court next month.