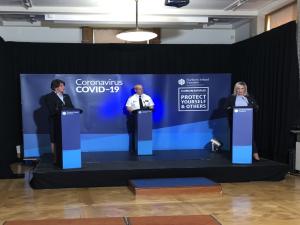 First Minister Arlene Foster, Chief Constable Simon Byrne and Deputy First Minister Michelle O'Neill - pic PSNI twitter
by Q Radio News
The First Minister says without a vaccine for covid-19 the threat of the virus still remains, as it was before lockdown was introduced in Northern Ireland.
The warning was issued during the executive's daily media briefing, as the region prepares to head into the bank holiday weekend.
Arlene Foster says despite some restrictions being relaxed in Northern Ireland, people must not become complacent.
From this week, groups of up to people from different households have been allowed to meet outside, as long as social distancing is adhered to and people remain two metres apart.
It is part of phase one of the executive's recovery plan out of lockdown.
Relatives who do not live together are still not permitted to meet indoors, despite the measure also being included in step one of the plan.
Ministers say the move is not supported by medical advice or science yet.
First Minister Arlene Foster said, "In the absence of a vaccine, the threat from coronavirus is no less than it was when we had to implement the lockdown."
"Covid-19 is still lurking. It thrives when people become complacent and it spreads when people become blase about public health advice, and it kills when people start acting as if the threat is no longer with us."
"The key to the lifting of more restrictions is by being sensible."
First Minister @DUPleader opens press conference saysing the "majority of you have heeded advice" but the "appeal is still to stay at home as much as possible." pic.twitter.com/Wy2cU0G2FX

— Q Radio News (@qnewsdesk) May 22, 2020
Arlene Foster @DUPleader says as we head into the Bank Holiday weekend, "Let's work together to see further relaxations, stay safe, stay disciplined and stay at home as much as possible."

— Q Radio News (@qnewsdesk) May 22, 2020
The message comes after three new deaths linked to covid-19 were announced by the Department of Health in Northern Ireland.
It brings the total death toll here to 504.
Meanwhile, also during the daily press conference, the Deputy First Minister addressed queries from those who are shielding in Northern Ireland for medical reasons, during the pandemic.
Michelle O'Neill says "To those people that are shielding who are asking can I go out if I stay apart from others. Unfortunately at this moment in time, no you can't."
"If you've received a letter asking you to shield for 12 weeks, it's because you are at higher risk of contracting the virus. So, the advice for you remains the same.
"However, you are doing really great at this and I know it is very, very difficult. We absolutely accept how difficult it is."
Deputy First Minister @moneillsf says as we head into the bank holiday weekend, people will want to take advantage of relaxation of restrictions but urges people to behave sensibly. pic.twitter.com/3S2YUC749u

— Q Radio News (@qnewsdesk) May 22, 2020
DFM @moneillsf says those shielding due to covid-19 must still remain indoors, despite easing of some restrictions.
She says people can travel a distance to visit family or friends outdoors (only groups of 6 social distancing) but warns "be sensible" and limit journeys.

— Q Radio News (@qnewsdesk) May 22, 2020
The PSNI's Chief Constable told the daily Stormont briefing, police will move from fighting coronavirus to tackling crime, after this weekend.
Officers had changed their policing style during the pandemic to support the health service, by ensuring people weren't breaking covid-19 restrictions and only travelling when necessary.
Enforcement powers were used more than 1,000 times during the current lockdown.
Simon Byrne said, "We will continue to support the health service and their endeavours to keep the incidences of the virus low and falling,"
"You will see a change to the policing style beyond the bank holiday weekend, so we're looking at moving from fighting the virus to fighting crime and restoring neighbourhood policing."
However, Mr Byrne said they will continue to enforce social media regulations.
The Police Chief also says people here must "keep the momentum" going in adhering to Covid-19 lockdown restrictions.
He urged people to consider if their actions are "responsible and reasonable" this bank holiday weekend.
.@ChiefConPSNI Simon Byrne has thanked people in NI for their cooperation during coronavirus lockdown.
He says officers have used enforcement powers just over 1,000 times but "in a population just shy of 2 million people." pic.twitter.com/b0oczE91wr

— Q Radio News (@qnewsdesk) May 22, 2020