First Minister Paul Givan
Q Radio News/PA
Northern Ireland's leaders have met with representatives of six religious institutions in an "important step" towards securing contributions on redress for victims and survivors of historical institutions.
First Minister Paul Givan and deputy First Minister Michelle O'Neill met with representatives of Barnardo's, the De La Salle Order, Sisters of Nazareth, Sisters of St Louis, the Good Shepherd Sisters, and the Irish Church Missions.
They are the six institutions identified by the Hart Report as being required to make contributions towards the cost of the Historical Institutional Abuse Redress Scheme.
The ministers said the focus of the meeting was to progress negotiations on contributions, seeking support from all representatives for a fair and equitable approach.
An independent facilitator, Paul Sweeney, has been appointed to take forward negotiations as to an appropriate financial contribution to the overall cost of the HIA Redress Board and specialist support services, as recommended by the Hart Inquiry
Mr Givan said all of the institutions found responsible for systemic failings at historic institutions must play their part.
"Today was another important step forward to securing meaningful participation from the institutions," he said.
"I welcome the cooperation all parties have demonstrated in today's useful and constructive discussions regarding contributions to the financial redress scheme and the delivery of a sincere apology and memorial.
"I am determined that this work will be taken forward at pace and engagement on these matters will continue in the weeks ahead. This is about securing a fair, equitable and compassionate approach that meets the needs of victims and survivors.
"They have lived with an unacknowledged hurt and trauma of institutional abuse for too long."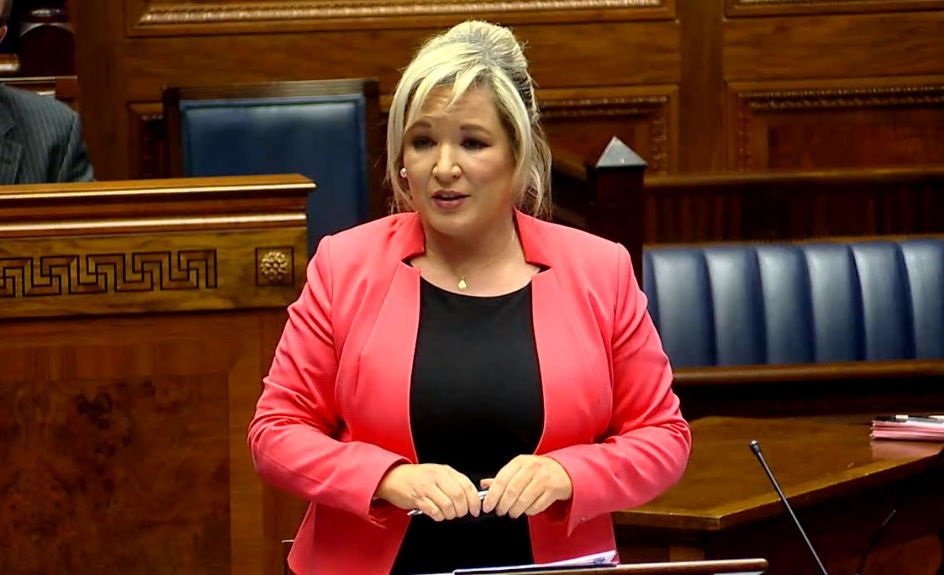 Deputy First Minister Michelle O'Neill
Ms O'Neill said: "Victims and survivors of historical institutional abuse have our full support and we are determined that they will get the acknowledgement, support and redress they deserve for the pain they have lived with over many years.
"Acceptance of responsibility, from all concerned, and recognition of the harm caused are both crucial in helping victims and survivors to move forward with their lives.
"We have made progress in the last year, with redress payments being made to victims and survivors, but we must continue the momentum towards the full implementation of outstanding recommendations in the Hart report.
"I have been encouraged by the positive response of all parties during today's roundtable and officials will now begin a series of bilateral discussions with the respective institutions. As ministers, we will do all we can to ensure that momentum is maintained to agree contributions as a matter of priority."