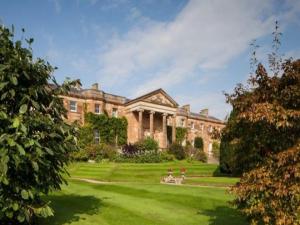 Heritage Lottery Fund
By Q Radio News
More than 30 staff at Hillsborough Castle in County Down are to be made redundant.
The Queen's official residence here is run by Historic Royal Palaces which says its been hit hard by the pandemic.
It is also the official residence of the Secretary of State for Northern Ireland.
33 full time jobs will be cut after the charity said it "exhausted all other options" to safeguard it's long-term future.
The 100 acre site only reopened to the public in 2019 following a £24 million refurbishment - which took five years.
Speaking about the job losses, Laura McCorry, Head of Hillsborough Castle, said,
'After a glorious opening year in 2019, 2020 could not be more different for Hillsborough Castle.
As a self-funded visitor attraction, our finances have been hit badly by the pandemic. Like so many other organisations across Northern Ireland, the downturn in visitors and international tourism has had a devastating impact on us.
This is a difficult time for the tourism industry and we are determined to play our part in its recovery. It is a matter of enormous regret that we can only do so if we act now to reduce our payroll costs and make the castle financially sustainable.
"Our staff care passionately about the castle and their work. We are deeply sad that it has come to this.'