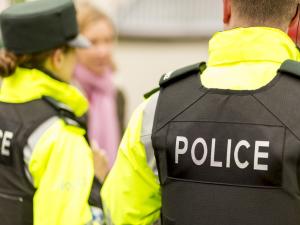 by Q Radio News
Police in Larne say they have been attacked with bricks, bottles, fireworks and Petrol bombs during a night of extreme disturbance in the town.
A large crowd of between 30-40 people, with their faces covered, placed wheelie bins on the Linn Road to form a burning barricade.
Officers had to intervene during the violence and extinguish a fire which was started in an area of Gorse, near to to a wooded area.
A police landrover positioned itself to be the focus of incoming missiles, in order to protect other vehicles belonging to members of the public.
We're told at at least four vehicles were also driven at speed around the area.
The incident calmed down around at around 12.45am, with officers later recovering three claw hammers and a quantity of bricks which had been stockpiled as missiles.
Detectives say they're now pursuing a number of lines of enquiry, including that there was paramilitary involvement.
A spokesperson for the PSNI says, "This was a reckless and totally unacceptable night of violence that posed serious danger to members of the public, police officers – and indeed those who were taking part in it.
"I would urge the community in Larne to reject these people who last night caused such fear and distress to local residents, as well as wrecking and terrorising the area they live in. And I would also call on people of influence in the area to intervene."