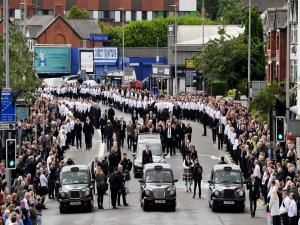 Credit: Alan Lewis
By Q Radio News and David Young, PA
Stormont's Health Minister has expressed concern about a potential "breakdown" in social distancing compliance following Bobby Storey's funeral.
Robin Swann was asked about the large crowds at the funeral, and the attendance of Sinn Fein members among them, during an appearance before the Assembly's Health Committee on Tuesday.
"I have concerns in regards to a breakdown or people failing to observe the guidance that the executive has given collectively over the past 14 weeks," he said.
"Because one of the things that has worked for Northern Ireland is our executive standing together and giving a consistent message that the people of Northern Ireland have followed.
"Because some of the measures we asked them to undertake were draconian, we said that from the beginning.
"But the people of Northern Ireland followed the advice and the guidance and that's why we are where we are today.
"My concern is that if there's anything that undermines the general public's confidence in the guidance that's coming out from the executive, from the members of this health committee... anything that undermines that advice and guidance does concern me."
📷 Crowds gather at Milltown Cemetery to pay their respects to senior Irish Republican and former leading IRA figure Bobby Storey, who died earlier this month,

Former Sinn Fein president Gerry Adams spoke at the service this afternoon.

(Pics PA) pic.twitter.com/WhkIOlln5R

— Q Radio News (@qnewsdesk) June 30, 2020
Mr Swann said his priority was ensuring Northern Ireland could cope with a second wave of Covid 19.
"There's no person, there's no point of privilege that puts anyone above the guidance," he said.
DUP deputy committee chairwoman Pam Cameron had asked Mr Swann about the issue.
"Are you worried on the back of evidence seen today from large funerals being held in Belfast and members of this House attending those funerals," she asked.
"I am looking at pictures and I am not seeing social distancing, I am not seeing masks, I am seeing large crowds spectating very close together and I am very concerned that we will lose any type of compliance from the public on the back of these types of incidents."
Gerry Adams carries the coffin of Bobby Storey Credit: Alan Lewis
Earlier, Mr Swann told members the pandemic was not over.
He was responding to remarks made by Alliance committee member Paula Bradshaw who, during her questioning of the minister, said Northern Ireland was "through the far side of the pandemic pretty much".
"We're not," he replied.
"This pandemic is still there, this virus is still in Northern Ireland, this virus is still across the United Kingdom."
Chief Medical Officer Dr Michael McBride also made clear that the health emergency was not over.
He said Northern Ireland was only at the "end of the beginning" as he warned of the potential for further waves.
"I would just appeal to this committee not to send out a message that we are through the worst of this pandemic, we are up to the end of the beginning of this," he said.