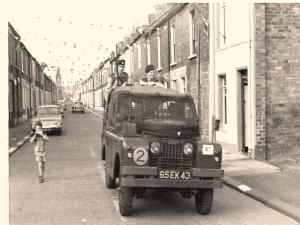 By Rebecca Black, PA.
Victims of Northern Ireland's troubled past are considering legal action over a delay in the delivery of a pension scheme.
It has been delayed amid a stand-off between Belfast and London on who pays for the estimated £100 million cost.
The first stage in the potential legal action against the Northern Ireland Executive will commence on Friday.
It will focus on the Executive's "failure to comply with legislation to provide payments for those severely injured through no fault of their own during the Troubles in Northern Ireland".
The Victims Payment Scheme had been due to open for applications on May 29.
However, it has emerged that the scheme will not be opening as scheduled and that structures set out in the regulations, passed into law in January 2020, to administer the scheme have not been set up.
Alan McBride, co-ordinator of the WAVE Injured Group, who lost his wife Sharon and father-in-law Desmond Frizzell in the IRA's bombing of the family fish shop in 1993, is behind the legal action.
In a statement WAVE indicated that depending on the Executive Office's response to a pre-action protocol letter asking for an explanation, a decision will be made whether or not to apply for a Judicial Review of the Executive's conduct.
Mr McBride said victims and survivors have lobbied politicians for "years and years and got nowhere beyond tea and sympathy".
"They took their case to Westminster when the Executive collapsed and the UK Government at last recognised that this was a legacy issue that had to be addressed," he said.
"It was back to the restored Executive to fulfil its legal and moral obligations to those who have suffered so much and they have failed to do so.
"That they have to take legal action is frankly disgraceful."
Mr McBride said the severely injured are the "forgotten victims of the Troubles".
"They have to live with the catastrophic life-changing injuries inflicted on them," he said.
"All they want is some recognition of the great harm that was done to them and these payments would do that and give them a degree of independence and dignity.
"To be told at the last minute that it isn't going to happen is devastating."
The legislation for the pension scheme was passed in July 2019, and the regulations passed in January 2020.
The structures to set up the administration of the scheme were to be in place by February 24 this year," he said.
"If the budget is an issue now it was an issue then and could have been dealt with if the political will was there.
"It's shameful that some of the most vulnerable in society still have to fight for what's right but fight they will through the courts if necessary."