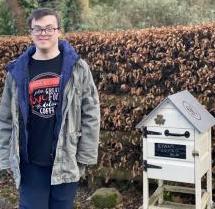 By Brett Campbell
A County Down baker who raises £1,000 a month for charity has invited three grammar school pupils suspended for mocking people with Down's syndrome to come and spend time in his kitchen.
Ryan Bogues spends 40 hours a week whipping up treats in 'Ryan's Cookie Box' at his family home in Ballynahinch.
He's offered to help educate the year 11 students from Regent House Grammar School in Newtownards.
Baker Ryan Bogues has invited 3 Regent House Grammar School pupils suspended for mocking people with Down's syndrome to spend a day in the kitchen with him

The 25yo entrepreneur raises a £1,000 a month for charity whipping up treats at Ryan's Cookie Box in Ballynahinch pic.twitter.com/IgQ08oJV80

— Q Radio News (@qnewsdesk) February 27, 2020
The 25-year-old's parents, Joe and Hazel, fought hard to keep their entrepreneur son in mainstream education and feel lucky that he's never been bullied, especially given his large social media following.
"Ryan has always felt very loved and supported," his mum Hazel said.
"His friends from school stay in touch and people cross the road to talk to Ryan. But this video is very hurtful, of course it is.
"You would like to think that kids of this age would have more sense and that we've moved away from this attitude."
Despite the Marie Curie worker insisting those behind the video "should be ashamed of themselves", she was gracious in her response to them.
"We would welcome these children to come and spend a day with Ryan and see what he does here," his mum Hazel said.
"Life is a learning experience - and they'll certainly learn a thing or two from Ryan.
"Not only will they be well fed, but they'll meet a man with the best moral compass of anyone I know.
"He won't judge them."