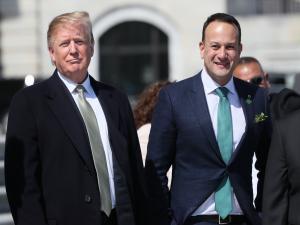 Q Radio news
The White House has confirmed that U.S President Donald Trump will visit Ireland from June 5th.
He'll hold a bilateral meeting with Taoiseach Leo Varadkar in Shannon when he arrives, but there's no word of him coming north of the border.
The President's security detail don't comment on his accommodation plans but it's widely expected he'll stay at his Doonbeg golf resort in Co.Clare for two nights.
Mr.Trump will also be in the UK and France during the trip to commemorate the 75th anniversary of D-Day.
Speculation surrounding the visit had been mounting for several weeks, but officials refused to comment on reports of a dispute over where the President and Taoiseach would meet during the trip.
A spokeswoman for the Irish Embassy in Washington welcomed the announcement of the visit.
"Detailed arrangements around the visit will be made public in due course," she said.