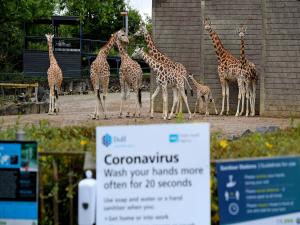 by Q Radio News
Belfast Zoo has reopened its gates to the public today after closing 3 months ago due to coronavirus.
A number of new safety measures have been introduced at the attraction in order to adhere to government health guidelines and to keep visitors, staff and animals safe.
A one way system will be operational, hand sanitizing stations have been set up and protective screens have been installed,
Meanwhile, visitors must now pre-book their trip and the site is restricting visitors to 1,000 per day.
(One of the hand sanitizing stations set up at Belfast zoo)
Zoo manager Alyn Cairns is reminding people their visitor experience will be different than before as most of the animal houses will be closed.
However, the decision will remain under review.
Zoo manager Alyn Cairns said: "While the experience will be a bit different for visitors, we are confident that there will still be plenty for people to see on their outdoor trek of the zoo – including the zoo's newest residents born during lockdown. Among them is Ronan, an endangered Rothschild's giraffe calf, a Southern pudu and two Scottish wildcat kittens."
"Although the zoo has been closed to the public, it has been business as usual for the animal welfare team who have been working round the clock to care for the animals and get ready for the zoo to welcome back visitors in a safe way.
"We are delighted to be able to open our gates again and would ask the public to please show patience and understanding when booking their tickets, and visiting while these necessary measures are in place.
"I know the animals will also be looking forward to seeing some new faces."
The zoo' café will also be offering takeaway service only.