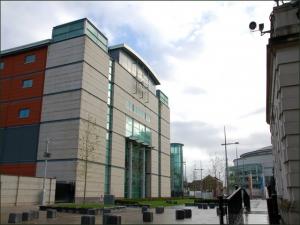 By Q Radio News
An alleged drug dealer accused of involvement in the "commercial supply" of cannabis said to be worth around £700,000 claims he was "prevailed upon" to become involved, a court has heard.
A defence solicitor for 45-year-old Jason Johnston told the Belfast Magistrates Court that the father-of-two became involved with two cannabis factories as a result of "considerable gambling debts."
Johnston, from Craighill Park in Ballyclare, appeared in court earlier today via videolink from police custody where he was charged with six offences including two of cultivating cannabis, three of simple possession of the class B drugs and one of having cannabis with intent to supply, all alleged to have been committed yesterday.
(Some of the 80 plants seized in yesterday's operation)
The charges arose after officers from the Paramilitary Crime Task Force investigating alleged criminality linked to the East Belfast UVF raided two properties on Friday, one in Dargan Crescent and Johnston's Ballyclare home, uncovering two cannabis factories.
Giving evidence to the court a Detective said he believed he could connect Johnston to each of the offences, adding that police had objections to him being freed on bail due to concerns that he would reoffend or interfere with the police investigation.
He said the cannabis police found, up to 80 plants "at various stages of growth" along with a total of 26 kilos of herbal cannabis, had a total value "in the region of £700,000."
The detective told the court it was the police case that Johnston "is involved in the commercial supply of cannabis," that he had "control at two remote sites" where cannabis was being cultivated and also that he had a "sophisticated packaging method of posting and delivery."
He said while the police did not know at this stage whether his "market is domestic or foreign," the officer said detectives were still conducting enquiries regarding CCTV and witnesses at each of the sites.
Describing how the seizures represented a "considerable financial loss," the officer police feared that if released, Johnston "maybe under pressure to recoup his loss" so police feared further offences could be committed and also feared that Johnston could interfere with the investigation by tampering with evidence not yet identified or seized by police.
Another concern, he submitted, was that Johnston "may be at risk from groups within NI if released" although he added that "there's no evidence to indicate that at this time."
"Because he is servicing two sites and watering both sites, he isn't abiding by Coronavirus lockdown so we suspect that he won't abide by bail conditions," said the officer.
Under cross examination from Johnston's defence solicitor, the detective agreed the defendant had a completely clear criminal record and that it is an "intelligence led investigation" and that before this, cops had "no knowledge" of Johnston.
The lawyer put to the cop that during the searches, there were no "trappings of wealth or lifestyle associated with drug dealing."
"Drug dealing does generate a lot of wealth," said the detective, "I'm not aware of any trappings of wealth that were recovered but there are still proceeds of crime that we will be seeking."
The solicitor claimed that "approximately three years ago, he had some severe depression and accrued very considerable gambling debts that have brought him to the attention of them and they have prevailed on him to become involved."
He submitted that with the prospect of the case not being dealt with for upwards of a year and given his clear record that Johnston should be freed on bail but with conditions to address police concerns.
District Judge Mark McGarrity disagreed however and refusing to free Johnston, said he shared police concerns about the risk of reoffending "and interference with the course of the investigation."
Remanding Johnston into custody, the judge adjourned his case until 26 June.