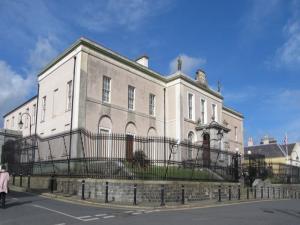 by Q Radio News
A former maths teacher who is currently serving a prison term for sexually abusing teenagers he tutored was back in court today (Wednesday) where he was sentenced for additional offences.
Patrick James Carton - who taught at two Co Down grammar schools - admitted three counts of indecently assaulting three girls on dates between September 1985 and December 1995.
The 78-year old is serving an eight-and-a-half year sentence following a trial held in Downpatrick in March 2018. Despite his denials, Carton was convicted by a jury of abusing five females and one male following a six-week trial.
Downpatrick Crown Court, sitting in Belfast, heard more complainants came forward as a result of media coverage regarding Carton's trial and conviction.
Earlier this year, he received an additional concurrent three-year sentence after pleaded guilty to abusing two other girls.
He was back in court again today where he admitted sexually abusing a further three girls - effectively a third set of charges - and was handed a three-year sentence which was divided equally between custody and licence.
As he sentenced the pensioner - who appeared via a videolink with Maghaberry - Judge Geoffrey Miller QC spoke of the "humiliation" experienced by Carton's victims and branded the tutor's actions as "indefensible."
Carton, from Ballaghbeg in Newcastle, previously taught at St Colman's College in Newry and De La Salle in Downpatrick, as well as tutoring maths.
It was during this period of private tutoring that Carton indecently assaulted the complainants, including those who came forward following his trial.
Setting out the offending for which Carton was sentenced today, Judge Miller revealed the three complainants included twins who he tutored in the 80s prior to their maths GSCE exam.
Judge Miller said: "The nature of the indecent assault was the chastisements he made each endure if they made errors.
"He had a points or star system which graduated from a written warning, ultimately to each being forced to remove their pants, bend over his knee and be smacked on the bare bottom.
"This happened on several occasions, it happened in the presence of each other, and clearly caused humiliation to each."
The third complainant, who was 17 at the time, was also physically chastised by Carton, and was smacked on the bottom over her clothes. This occurred in the mid 90s whilst Carton acted as her maths tutor.
Following complaints made by all three, Carton was arrested and interviewed in May 2019. He admitted tutoring the twins and said the chastisement was a 'challenge against them making silly mistakes.'
He also told police he had difficulty justifying this system of punishment in 2019 - an admission Judge Miller said was a "significant change" to the attitude Carton took at this trial.
Judge Miller said he had considered submissions made on behalf of Carton by defence barrister Stephen Toal.
These include Carton's advanced age, the lengthy sentence he is already serving and the change in his attitude to the offences which resulted in guilty pleas.
Saying a custodial sentence was necessary for the protection of the public, Judge Miller imposed a three-year sentence which was split between 18 months in prison and 18 months on licence.
After issuing the sentence, Judge Miller said "the defendant may be returned to his cell."