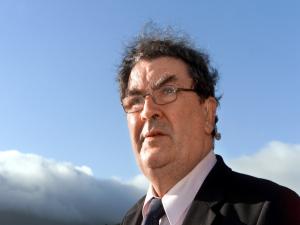 A funeral mass will be held for the 83 year old tomorrow
By Q Radio news
The family of the late former SDLP leader John Hume have requested that those who wish to pay tribute to him prioritise their health.
In a statement on Monday night, the Hume family thanked all for the "heartfelt and sincere condolences" they have received following news of his death, adding the messages have been "immensely comforting to us".
A funeral mass will be held for the 83 year old tomorrow in accordance with public health guidance.
However they have urged the public to prioritise their health ahead of Mr Hume's body being transported from Moville in Co Donegal to St Eugene's Cathedral in Londonderry this evening.
"We know that he would have prioritised public health and the safety and health of our communities," they said.
"We're asking people to follow that guidance, please do not put yourself or others at risk. Instead we would ask that people light a candle for peace at 9pm in their homes or at their door."
Mr. Hume passed away in the early hours of Monday having suffered from Dementia for some time.
Statement on behalf of the Hume family

"The heartfelt and sincere condolences...have been immensely comforting to us....We would ask that people light a candle for peace at 9pm in their homes or at their door." pic.twitter.com/y8qwxpOJm4

— Q Radio News (@qnewsdesk) August 3, 2020